Mark as New

Bookmark

Subscribe

Mute
Currently, in the FieldMaps app, users can copy features. If a feature and its attributes are editable, then selecting the feature in the app (Tested in iOS) and pressing the copy features button duplicates that feature's attributes into a new feature, but does not allow the user to copy the geometry and attributes over to another editable layer of their choosing. Using the copy features button on a feature that is not editable (but has copy features enabled) gives the user a choice of which editable layer to paste into. Like a paste special function right? (see image below) I hope this kind of thing is possible to program, because it would be a great asset to FieldMaps users.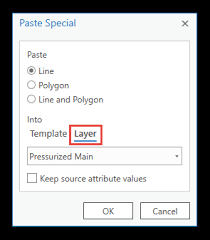 The idea proposed is that FieldMaps could be programed to give the user a choice of which editable layer to copy the features geometry and attributes to.
My use case is this:
I am working in natural resources and have several layers for describing work that we do.
1. Planning layer for planning future work (not editable by field users)
2. Tracking layer for tracking current work (editable)
3. Completed layer for finished work (editable)
I want users to be able to copy the geometry and attributes over from current work to completed work, but since both attributes are editable, this does not seem to be possible currently.
Users can copy features from the planning layer to other layers because this layer is not editable, yet has copy features enabled. I like that FieldMaps allows copying from these reference data layers and I use this function in several workflows.
This idea is related to "Copy Features not availabe for certain feature classes in Field Maps" by @TravisSizemore
3 Comments
You must be a registered user to add a comment. If you've already registered, sign in. Otherwise, register and sign in.