Occasional Contributor
Mark as New

Bookmark

Subscribe

Mute
Hi! Firstly, I am very excited to finally see a search widget in Experience Builder!
Not sure if anyone else has run into this, but the search widget is currently producing two drop-downs that seem to have different functionalities.
(Original post - scroll down for update)
For context, I am reading both my own hosted layer, "Landscape Units", and the ArcGIS World Geocoding service. I have set it so that the Landscape Units should appear at the top of the drop-down: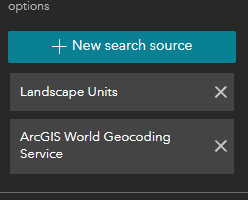 Initially, when using the search bar, the drop-down does not respect this ordering: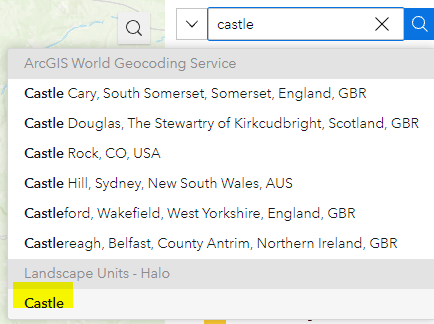 (Landscape Units are at the bottom)
Selecting "Castle" will filter the associated layer, but will not select it. After clicking the selection, a second drop-down appears, this time respecting the set ordering: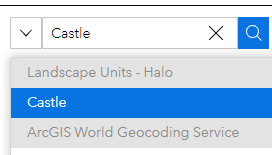 When "Castle" is clicked in this drop down, the associated feature is selected, and actions related to that selection are carried out.
What I would like to see:
I would like to see only the functionality of the second drop-down. That is, you search for a record, the drop-down respects the order set by the user, and the feature is selected upon clicking the item in the drop-down. I do not think that filtering the layer should be a default functionality of the search widget - currently, there is no way to turn it off, and if I wanted filtering I would just use the filter widget!
If anyone has more info on this, I'm all ears! Hurray for the search widget, appreciating this update so far!
UPDATE 2021/09/17
The order of the search items is now being respected, thank you! However, I am still getting two drop-downs. I have also added images to show the map behaviour - note that I am running the search widget on a white layer that underlies the black boundary lines as a workaround for the filtering issue I mentioned
Initial view of map, with "halo" effect: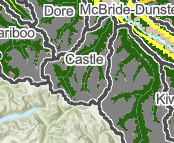 First search, 'Castle' selected: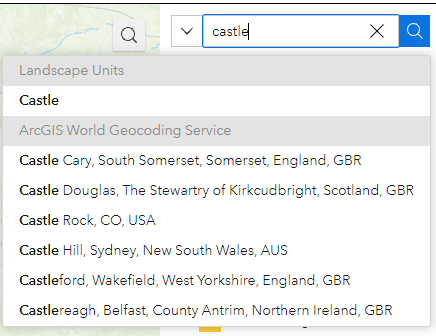 Map filters layer, but does not select (note that the "halo" effect is only around 'Castle' now):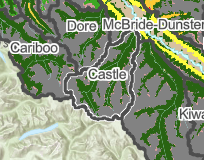 Now, the second drop-down only shows 'Castle', but I still need to click it in order for the selection and related actions to occur: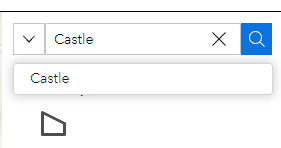 Upon clicking, selection occurs: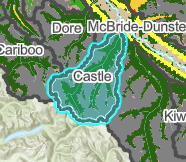 12 Replies