Occasional Contributor
Mark as New

Bookmark

Subscribe

Mute
Hi,
I am installing a single-machine deployment of ArcGIS Enterprise 10.8.1.
I am trying to figure out why you want to install separate web adaptors one for Portal and one for arcgis.
I started off with installing the web Adaptor for ArcGIS Server. I named it arcgis: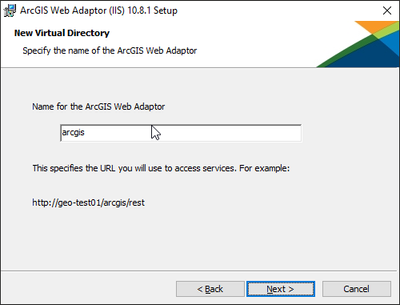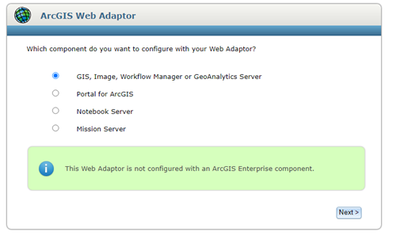 Then after setting up the IIS, I re-opened the web adaptor application and configured it for Portal: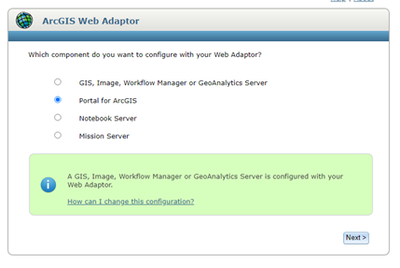 As a result Portal is accessed through: domain.host.com/arcgis/home or domain.host.com/arcgis/portaladmin/
ArcGIS Server is accessed through domain.host.com/arcgis/manager or domain.host.com/arcgis/rest/services
In the documentation I saw it is usual to install two separate web adaptors so that portal is accessed through domain.host.com/portal/home and ArcGIS Server through domain.host.com/arcgis/manager.

In IIS I have configured the domain.host.com certificate to use the 443 port. ArcGIS Server is accessible through the 6443 port and Portal through the 7443 port.
Why or do you want to install two separate web adaptors and when would the setup as shown in this post be sufficient?
best,
Jelle Stuurman
1 Solution

New Contributor III
Mark as New

Bookmark

Subscribe

Mute
My apologies, the link I sent wasn't quite the one I wanted to provide. Have a look here as well:
https://enterprise.arcgis.com/en/web-adaptor/10.8/install/iis/getting-started-with-the-arcgis-web-ad...
With emphasis, this is the key part of that text:
You can configure ArcGIS Web Adaptor to work with a server site ... or ... Portal for ArcGIS. ... You cannot configure the same Web Adaptor with multiple components.
There used to be no real concerns with using say 'arcgis' as the context. From about 10.6.1 it was recommended not to, although one of my clients was using it up to 10.7.1 and it worked fine. When they wanted to go to 10.8.1, the above link showed that the approach was no longer supported. I implemented this in a dev environment and it broke. We ended up having to do a new build of ArcGIS Enterprise at 10.8.1 in a side-by-side configuration. I strongly recommend heeding the advise in this article and using portal and server as the context names rather than trying to put both on arcgis.
6 Replies