Occasional Contributor II
Mark as New

Bookmark

Subscribe

Mute
I've installed ArcGIS 10.4.1 for Server and ArcGIS 10.4.1 for Server Publishing Patch (http://support.esri.com/download/7397).
When I login the ArcGIS Server Manager and publish service with *.sd file, it still not success.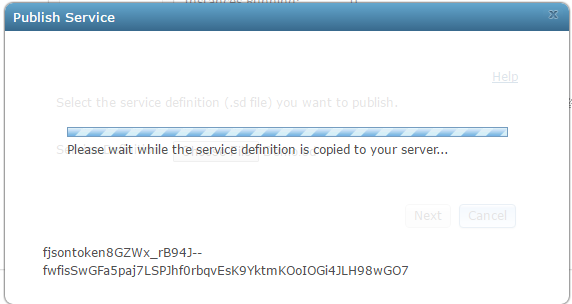 The same operation in ArcGIS 10.3.1 is successed.
Environment:
Windows 8.1
ArcGIS 10.4.1 for Desktop
ArcGIS 10.4.1 for Server
ArcGIS 10.4.1 for Server Publishing Patch
- Additional:
Browser: Google Chrome v55.0.2883.87 m(64-bit)
SD file size: about 90 KB
ArcGIS Server directory: C:\arcgisserver\ (installed by default)
1 Solution

MVP Esteemed Contributor
Mark as New

Bookmark

Subscribe

Mute
Thank you for providing further details. It could be the issue with Google Chrome.
ArcGIS Server Manager Upload Patch
Recent browser updates result in errors when attempting to upload certain files in ArcGIS Server Manager. As of Firefox 49, Chrome 54 and Safari 10, uploading service definition (SD), server object extension (SOE), KML network link (KMZ), or database connection (SDE) files will produce errors.
Alternatively, you could work on Internet Explorer. It should work.


Think Location
4 Replies