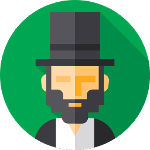 Occasional Contributor II
Mark as New

Bookmark

Subscribe

Mute
Portal on one VM. Server on another. Datastore on a third.
Portal and Server both have their own Web-Adaptors on their respective machines.
All relevant enterprise ports open. VM firewalls turned off.
Config files on separate fileshare.
Everything works as per normal, except for printing:
Default ArcGIS Online print service works.
Default Enterprise print service works when shared publicly, but not when shared with self or organization.
Newly created print service fails as per default Enterprise print service.
ESRI Support suggested SSL certificate issue.
Using wildcard certificates for IIS Web-Adaptors.
Tried default selfsignedcertificates, our own self-signed certifcates as well as wildcard certificates but changing these did not change any print service behavior.
Odd behavior believed to be observed, by numerous staff in troubleshooting meeting:
Print appeared to work for minutes when changing sharing from 'public' to 'organization' but then failed. Uncertain if we had tokens still around from existing attempts.
Once print failed using machine URL, opening REST endpoint and clicking on 'login' then refreshing map page would then result in the successful retrieval of the image.
Note that all testing was done primarily from the viewer.html page of Portal. Similarly, for ease, most testing used MAP_ONLY although other layouts were also tested and confirmed to suffer the same issue. And, printing of basemaps alone or with locally published data failed in the same manner. When printing this way, a new tab opens with the result - it is this page that fails to grab the image (but succeeds when refreshed after the REST endpoint is logged into').
1 Solution

by
BillFox

MVP Frequent Contributor
Mark as New

Bookmark

Subscribe

Mute
Abe,
great!
It worked for me to be able to use secure content from the ArcGIS Marketplace item from Nearmap aerial imagery.
The "hand-shaking" gets blocked.
I'm not sure if my issue is exactly like yours but it sounded close enough to give it a try.
For me, using a separate (stand-alone) ArcGIS Server just for the printing service provided enough magic to get Nearmap content printing (along with other ArcGIS Enterprise printing needs) again.
Cheers,
4 Replies