by
AdrianWelsh

MVP Notable Contributor
Mark as New

Bookmark

Subscribe

Mute

Email to a Friend
I feel like this is a dumb question and likely the way my stuff is set up is why I can't do what I want to do.
I have ArcGIS Server (10.4) set up on a computer that sits on a public facing IP address. I have a folder on this PC that is registered in the Data Store. In this folder I have several images that I will want to use as attribute in some of my GIS data. How do I see these images from an outside-server perspective? Does this make sense?
I have other GIS data that I have published to this ArcGIS Server computer that I can see anywhere with the web address, but do I need to "publish" my files/items/pictures in order to see them on ArcGIS Server as well?
Thanks.
1 Solution

Esri Frequent Contributor
Mark as New

Bookmark

Subscribe

Mute

Email to a Friend
We're getting outside the realm of ArcGIS Server, so we're going to work directly with the web server. I'll list some basic steps, but of course they may need to be tweaked depending on what you want to do:
1) On the machine hosting the web adaptor, navigate to c:\inetpub\wwwroot
2) Create a new folder called "images" or whatever you want to call it.
3) Place any image in that folder
4) Open http://<machine_hosting_web_adaptor>/images/<image_file>
You should be able to see your image in your browser: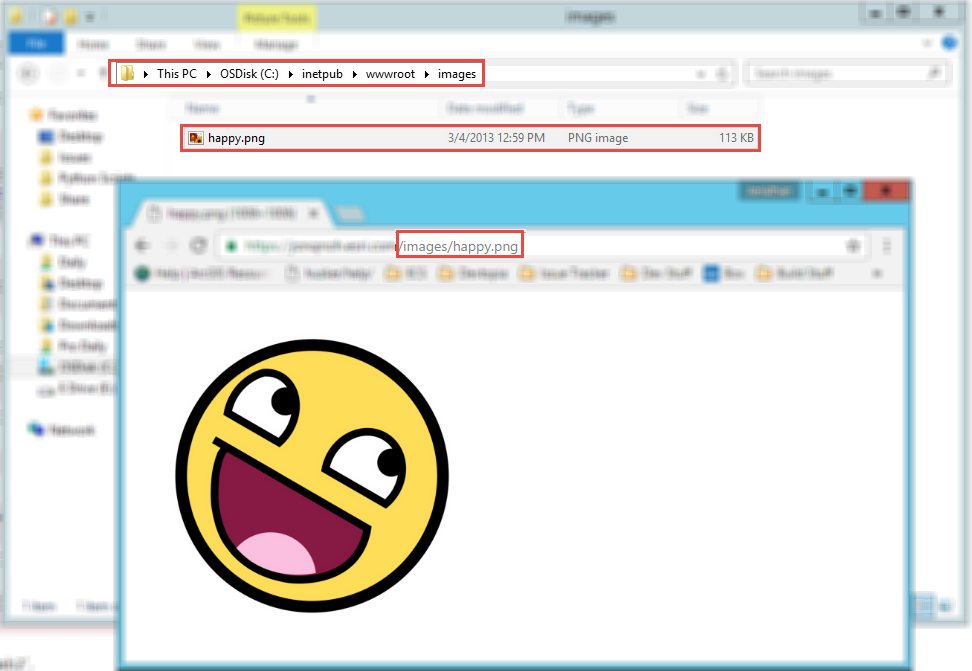 In the screenshot above, C:\inetpub\wwwroot translates to https://<web_server_host/. After that, you're just accessing the image through the same path, \images\happy.png on disk translates to /images/happy.png in a browser.
You'll then use https://<web_server_host>/images/happy.png in any row within your attribute table that should point to that image.
13 Replies