Occasional Contributor III
Mark as New

Bookmark

Subscribe

Mute
I used Administration>Add User in ArcCatalog 10.5.1 using a sa connection to an enterprise database based on Windows, ArcServer 10.3.1, SQL Server 2016 RC3 to add a user named "temp" for a demonstration. Now I want to delete user "temp", but I can't figure out how. I tried with SSMS, but it reported it was unable, that there was also a schema named "temp". Was "temp" an unfortunate name choice, or do I want to also delete this schema?
All I could find was this suggestion for a Drop tool. https://community.esri.com/ideas/9405
2 Replies

Occasional Contributor II
Mark as New

Bookmark

Subscribe

Mute
Hi Paul,
Did you ever clear this? We have the same case here, having created users with ArcGIS (therefiore also schemas in the underlying PGSQL RDMS).
Is there a way for a clean & easy deletion of these users (and schemas) using ArcGIS, ArcPy, or -as a last resort- ArcObjects?
I do not particulalry want to delete the schema in PgAdmin, as I guess there would remain traces of it somewhere deep in the SDE schema of that database.
ESRI people, any advice welcome - many, many thanks!!
Best regards,
Hélène.

Esteemed Contributor
Mark as New

Bookmark

Subscribe

Mute
Not sure if the Pro has a tool to delete the database user or the only way to do it is from SQL server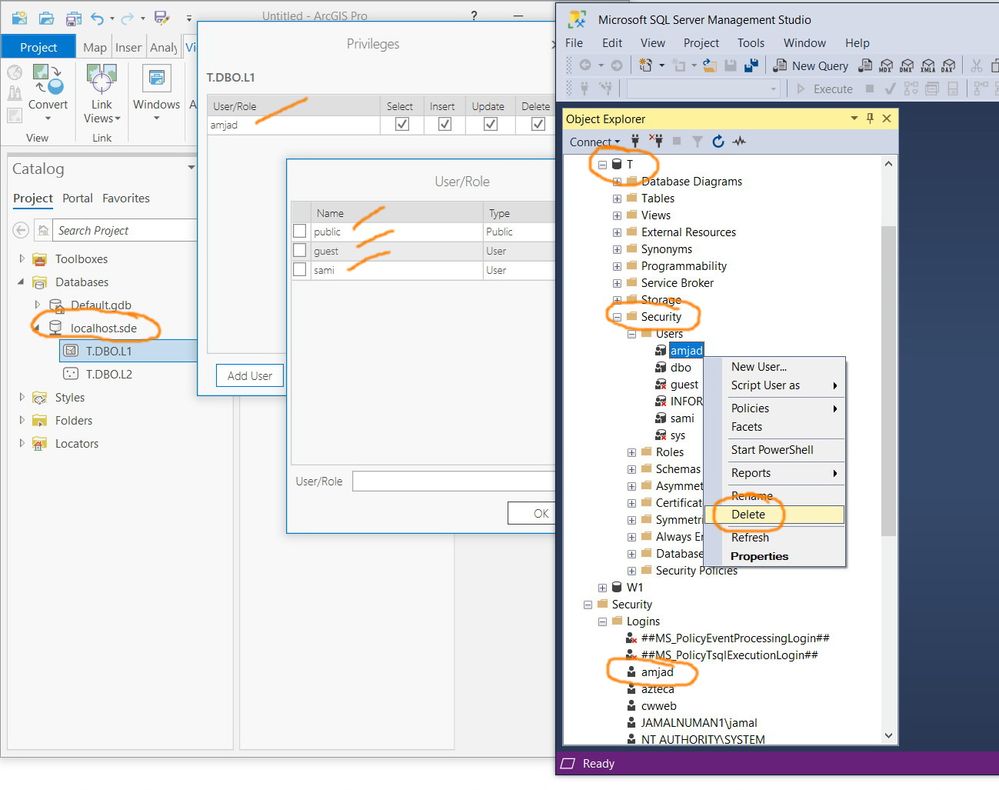 ----------------------------------------
Jamal Numan
Geomolg Geoportal for Spatial Information
Ramallah, West Bank, Palestine