Occasional Contributor
Mark as New

Bookmark

Subscribe

Mute
Hi,
I've recently upgraded from Enterprise 10.5 to 10.6.1. When I try and run the webgisdr the Portal backup is failing.
The backup is failing because portal can't export an item Export of the Portal repository failed. C:\arcgisportal\content\items\e5516d3106674d528b62b01621bce864
It is interesting that the 10.5 webgisdr backup ran without any issues suggesting that the orphaned items didn't exist ?
If I search for the item e5516d3106674d528b62b01621bce864 in the contents folder on the Portal server no files are returned. However if I search in the Portal itself through I can find the item. If I click on the item to try an access the item details to delete it nothing is returned.
I've tried going into the rest/sharing directory and into my content. I can see the items I want to list however when I select one to delete and internal server error 500 is returned.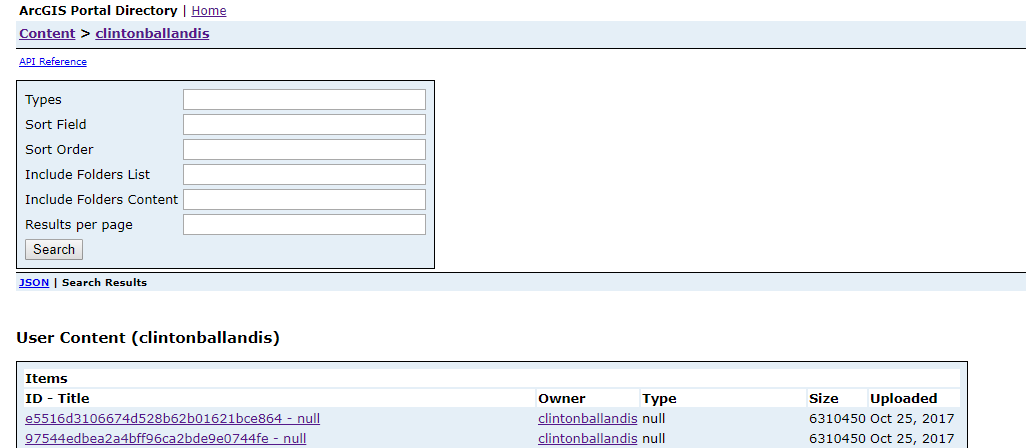 I've also tried re indexing the portal.
Any help would be appreciated.
Thanks,
Clinton
1 Solution

Occasional Contributor
Mark as New

Bookmark

Subscribe

Mute
Hi all,
I managed to get this resolved via a support call with ESRI. There were a number of possibilities to work through.
12 Replies