Occasional Contributor II
Mark as New

Bookmark

Subscribe

Mute
I am having some issues with a large data set in our enterprise geodatabase, and would like to learn if this is simply a limitation of the technology, or if perhaps I have a setting incorrectly applied.
I have a large point data set (close to 3.8-million records) that we have been able to successfully use as a stand-alone file geodatabase to create heat maps. I can even create an individual heat map from that one file geodatabase feature class and publish that directly to Portal (10.6.1) from ArcGIS Pro (2.3.2). However, a manager here would like to be able to query the data itself using Portal, and create heat maps based on those queries, and with smaller data sets this does indeed work.
However, when I imported that large data set into our enterprise geodatabase (so I could get it ready for publishing), and then opened the attribute table to make sure all of the records were there, I suddenly started to run into ODBC driver connection errors, as per below: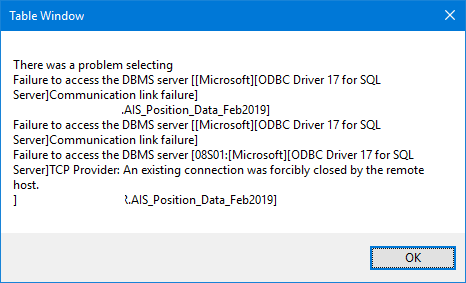 I do have other smaller feature classes (linear mostly) that are in the 0.5-million records range and there are no problems opening these attribute tables and populating any of these with all records. The plan is to eventually vector cache this data set to make it less cumbersome to use, but I will cross that bridge when I solve this issue first.
So does this ODBC Driver 17 failure mean that the enterprise geodatabase has limitations, or is there perhaps a way I can fix this? I'm also wondering if I could just put this data set into a registered folder on our server and then add it to Portal that way instead.
Thanks
8 Replies