New Contributor
Mark as New

Bookmark

Subscribe

Mute
Hi everyone.
strictly speaking. question in the subject header.
Details: we get a demo license for the server and portal, We test these products.
installed arcgis server, web adapter, (10.3); made self-signed certificate for the site in IIS, SSL is enabled on the server and installed arcgis portal, wound account of the main portal administrator (authorization is successful)
further to work with the portal require to configure web adapter for the portal, and here arise incomprehensibility :
in all instructions, and, as an example, written address "example: https://machine.domain.com:7443"
question:how to right to specify domain.com
if use a LOCAL PC with installed on it as of arcgis server and a website on IIS ?
(name of machine "WINSRVARC")
If enter something like
message will be displayed
"to configure the portal requires full domain name in the url"
If enter "https://winsrvarc.loclhost:7443"http://i.snag.gy/4yIhO.jpg
will be shown message:
"failed to get token of portal administrator"
if same to log in on portal, initially, usually
message is displayed absence of the configured web-adapter, but if log in directly "my resources" or "my organization" then login executed. Portal working, resources, applications and other added succesfully.


And also incomprehensible – HOW to specify this portal when installing wepapp builder
(http://winsrvarc:3344/webappbuilder/?action=setportalurl )
"specify url your organization or portal of arcgis"
(name of machine "WINSRVARC")
error: Enter the full URL-address of the organization ArcGIS Online"
how to specify same correctly address of portal which installed on local PC ?
2 Replies

by
KenBuja

MVP Esteemed Contributor
Mark as New

Bookmark

Subscribe

Mute
Please note that the GeoNet Help​ space is for discussions about the workings of GeoNet, not specific applications. I'll move this discussion to Portal for ArcGIS, but you can also move it to a more appropriate place if necessary.

MVP Esteemed Contributor
Mark as New

Bookmark

Subscribe

Mute
Hi Evan,
These are the following steps I followed to install the Portal for ArcGIS 10.3 in Windows 8 workgroup. I think the same goes with Windows 7 / 8.1.
1) Defined a Primary DNS suffix to the computer and restart the system.
Control Panel > System > Computer Name, domain and workgroup settings. Click "Change Settings". On "Computer Name" tab, click Change. Define the DNS suffix name for this computer.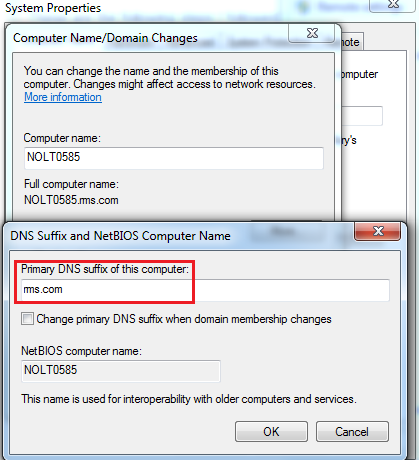 2) Uninstalled Portal for ArcGIS from Control Panel and
deleted "C:\Arcgisportal" and "C:\Program Files\ArcGIS\Portal" directories manually.
3) Ran "ccleaner" utility to get rid of the dirty files and registry issues.
4) Bound SSL Certificate to the website (Edit it, if already bound)
5) Installed Portal for ArcGIS. After the installation was finished, I was greeted with the Initial Administrator Account page.
6) Use the full computer name to configure portal for ArcGIS with web-adaptor.


Think Location