Mark as New

Mark as Read

Bookmark

Subscribe
Updated March 2021, as the URL scheme has changed.
ArcGIS Dashboards (formerly Operations Dashboard for ArcGIS) enables you to easily create dashboards that enable you to present your data in a single screen for at-a-glance decision making, without writing any code. Each day stunning new dashboards are being shared on Twitter, LinkedIn, and ArcGIS Online that might inspire you to make your own dashboards better.
Dashboard Envy
Ever see an awesome dashboard and wondered, "How did they make that?"
(The following are some jaw-droppers that were put together by Esri staff)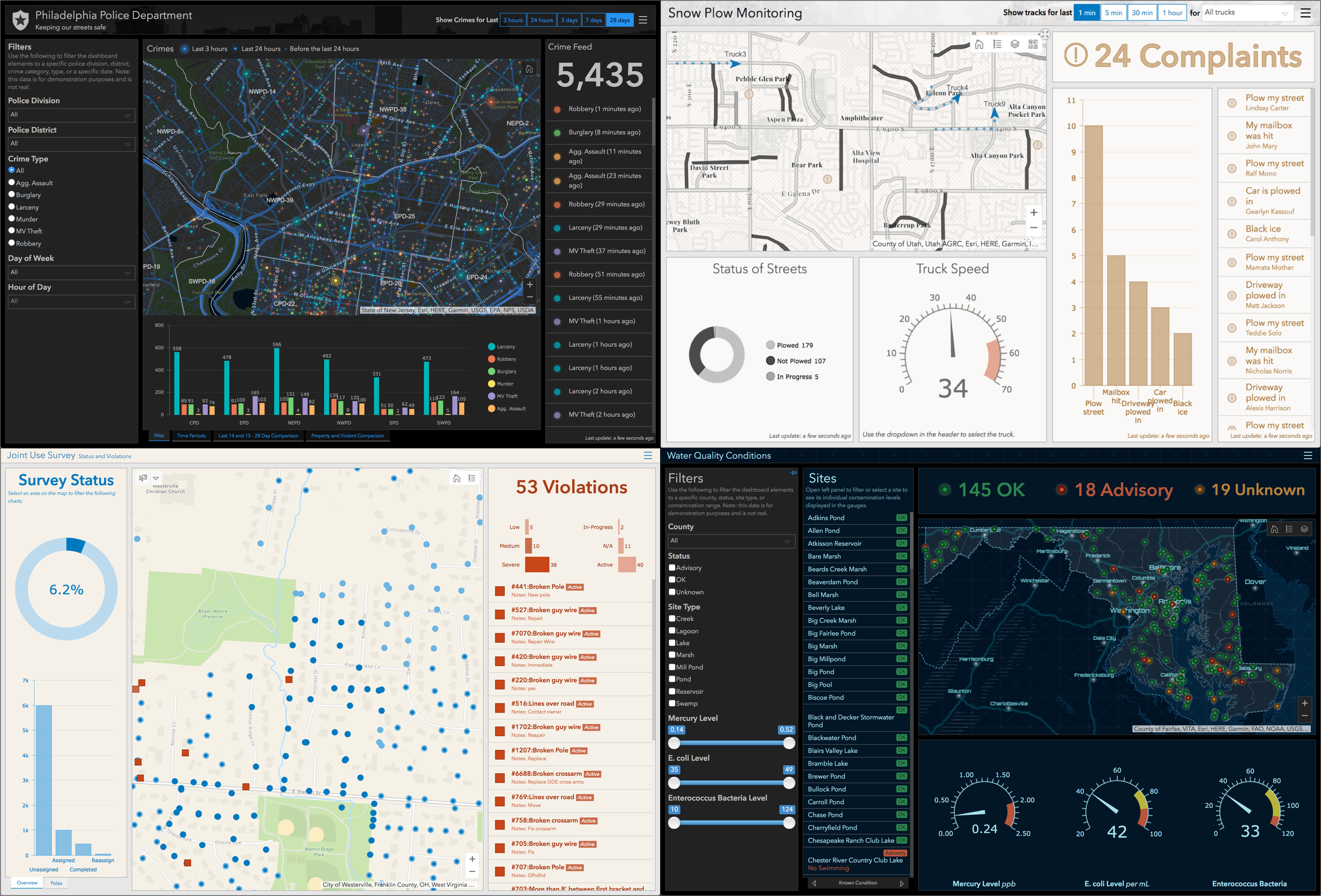 Maybe it is an impressive chart, a sophisticated indicator, or a background color scheme. You just need to know how they did it. Well now you can find out!
By opening a dashboard in edit mode you are able to edit the elements and see how they are configured. So, now it is a matter of copying that inspirational dashboard and opening it in edit mode. In most cases, you can create a copy of the dashboard (see below for caveats), whether it is publicly shared or shared within your organization.
Here's how:
Sign in to your ArcGIS Online/Enterprise account and go to the ArcGIS Dashboards home page via the App Launcher. Or, enter the following address directly:

https://

yourOrg

.maps.arcgis.com/apps/dashboards/home

Note: You technically don't need to have "yourOrg.maps." in the URL. It will work without it (https://arcgis.com/...).

Click the Create Dashboard button. It will route you to:


https://yourOrg.maps.arcgis.com/apps/dashboards/new

Copy the item ID of the dashboard you'd like to save a copy of, such as the following:

https://www.arcgis.com/apps/dashboards/9ef296f66f724c36bcaf01fc69768ecd 

Add #id=itemID to the Create Dashboard URL and press enter (to reload the page)

https://yourOrg.maps.arcgis.com/apps/dashboards/new#id=9ef296f66f724c36bcaf01fc69768ecd

The page will load with the Title, Tags and Summary already filled in with the dashboard you are copying


Click the Create Dashboard button. It will open the copied dashboard in edit mode, and you can now start exploring how the dashboard was made (e.g., open the configuration of elements).
The Fine Print
How To Prevent Copying of a Dashboard
You might be reading this and thinking, what if I don't want people to copy my dashboard. You can prevent others from copying the dashboard by going to its Item Details page in ArcGIS Online. Go to the Settings tab, uncheck the property for "Allow other to save a copy of this item." and click Save.

If others try to create a copy, they will get an error message.
"Error: The item is copy protected."
That's a wrap. Now go make that sweet Gauge or Serial Chart you've been dreaming up. You can also check out trending dashboards for more inspiration.
15 Comments
You must be a registered user to add a comment. If you've already registered, sign in. Otherwise, register and sign in.