Occasional Contributor
Mark as New

Bookmark

Subscribe

Mute
Our organization acquired a concurrent use CityEngine license earlier this spring, but we've been encountering errors with it numerous times with regards to the licensing. It appears after a certain amount of time, the license on the server hosting it becomes corrupt. For instance, if an end user tries to access CE on their desktop, they will be presented with a message that states there are no licenses available. Looking at the server hosting the license, in License Server Administrator, we are presented with the message below. You can also see that under the Available column it states "No".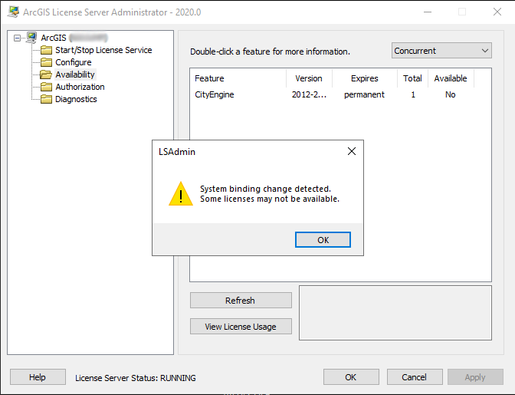 The only resolution I've found is to delete the FLEXnet folder on the license server > recover the lost license via My ESRI > and reauthorize the license (per this tech article). This has happened to us around 3 or 4 times and the resolution is not the most elegant; there is obviously some issue going on that corrupts the license but I cannot figure it out (yet).
Just was wondering if other uses had encountered this issue before? If so, what was your resolution?
2 Replies
New Contributor II
Mark as New

Bookmark

Subscribe

Mute
This usually means the trusted storage became corrupt due to a change in the system hardware. I would check the machine ID on in the ArcGIS License Server Administrator. Save the file. When it becomes corrupt again, recheck the machine ID and compare it to the saved file. Perhaps the IP Address change for example. Regardless, this is a good starting point to determine whey the license is no longer valid.

Occasional Contributor
Mark as New

Bookmark

Subscribe

Mute
Thank you for the advice, I'll make a note of the machine ID in case it happens again. I should note that I had a call with ESRI support a couple weeks ago and we went through the same steps as I had outlined above; and it hasn't broken since then.