Occasional Contributor
Mark as New

Bookmark

Subscribe

Mute
I am trying to export object attributes along with models in a scene package layer. After using the following rules (here, attributes are simplified), I am still receiving a 'name' attribute associated with shape number (see attached snip) when the models are ingested and interacted with in a web scene (uploaded manually to our Portal for ArcGIS). Any recommendations on how to get these attributes to export properly in the scene layer package? I am using CityEngine Basic 2017.
Thanks in advance!
/**
 * File:    reportAttr.cga
 * Created: 18 Oct 2017 21:50:40 GMT
 * Author:  GARDTESS
 */

version "2017.0"

attr BL_ID = ""
attr TYPE = ""

@StartRule     
Report -->
     report("BL_ID", BL_ID)
     report("TYPE", TYPE)‍‍‍‍‍‍‍‍‍‍‍‍‍‍‍‍‍‍‍‍‍‍‍‍‍‍‍‍‍‍‍‍‍‍‍‍‍‍‍‍‍‍

‍

‍

‍

‍

‍

‍

‍

‍

‍

‍

‍

‍

‍

‍

‍
This is the code I appended to the end of the rule I am using to generate the models:
import Report : "rules/reportAttr.cga"

attr BL_ID = ""
attr TYPE = ""


@StartRule
Generate -->
 Report.Report‍‍‍‍‍‍‍‍‍‍‍‍‍‍‍‍‍‍‍‍‍‍‍‍

‍

‍

‍

‍

‍

‍

‍

‍

‍

1 Solution

by
CherylLau

Esri Regular Contributor
Mark as New

Bookmark

Subscribe

Mute
I made an even simpler example for you, which works for me. Does this work for you?
1) Create a new scene
2) Draw two rectangles
3) Add an object attribute called type to both shapes and set one shape's value to "residential" and the other shape's value to "office". (Inspector -> Object Attributes)
4) Apply this rule to the shapes.
attr type = ""

Lot -->
     extrude(10)
     report("Type", type)

‍

‍

‍

‍

‍
5) Note that, in the Inspector, the rule attribute called 'type' is connected to the object attribute called 'type'. If it is not connected, connect them. Click on drop down arrow next to type -> Connect Attribute -> Object attribute. Also note that the report Type appears in the Reports section of the Inspector with the correct value for each shape.
6) Select both shapes
7) File -> Export models -> Esri Scene Layer Package -> Make sure 'Emit Reports' is checked -> Next -> Feature Granularity = One Feature Per Shape -> Finish
😎 Right click on slpk file in models folder -> Share As -> Upload package to my ArcGIS Online or Portal account -> Share
9) In Navigator, click on second icon along the top to go to your account and see the slpk you just made. Right click -> Open in browser. Or, sign on to ArcGIS Online in your web browser and view your Content to see the slpk file you just made. Select this file.
10) In the browser, in your ArcGIS Online account, click on the slpk file -> Publish -> Open in Scene Viewer
In the Scene Viewer, when a building is selected, the type reported is also displayed in the popup window.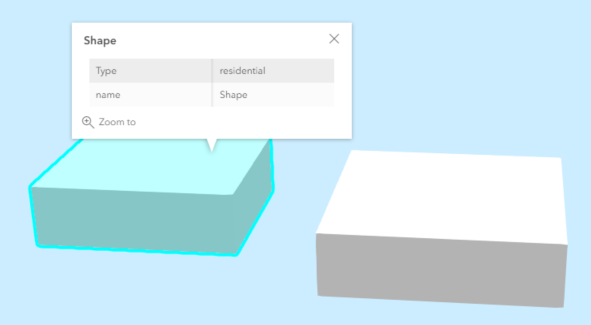 6 Replies