Occasional Contributor II
Mark as New

Bookmark

Subscribe

Mute
Sorry for posting a question that is not strictly ArcGIS related (although I'm using arcpy in my script): My Jupyter Notebook launched from Anaconda is looking strange these days. When an ipynb file is opened, it now looks like this. Many buttons are gone such as the stop button. Did I mistyped something and changed the layout?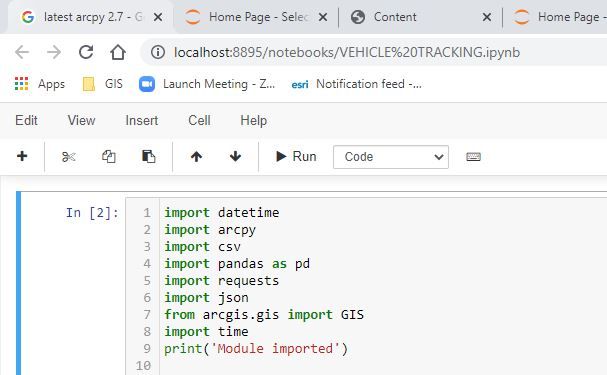 It used to look like this (I found this screenshot online).
2 Solutions

by
DanPatterson

MVP Esteemed Contributor
Mark as New

Bookmark

Subscribe

Mute
second icon to the right of "CellToolbar" I have an option to add the run toolbar.
I tend to use JupyterLab rather than Notebook outside of Pro, there are more options.

... sort of retired...

New Contributor III
Mark as New

Bookmark

Subscribe

Mute
Y'ALL! If you missed the simple/clean Jupyter Notebook interface, good news...this was a bug that was finally fixed in Pro 2.9.2:
Updates have been made to the following defect which you are associated with:
BUG-000144913 - After the installation of ArcGIS Pro 2.9, when Jupyter Notebook is opened on the browser, the menu bar is missing.

Current Information:
Status: Implemented.
Public Explanation: This patch fix applies to the arcgispro-py3 environment. To get the desired behavior, users will need to first update to Pro 2.9.2, then either re-create the clone (getting the fixes from arcgispro-py3) or run "conda upgrade jupyter_contrib_nbextensions" in any affected custom environments.
Workaround:
6 Replies