by
AdrianWelsh

MVP Notable Contributor
Mark as New

Bookmark

Subscribe

Mute

Email to a Friend

I am using Robert Scheitlin, GISP​'s Google StreetView widget from here: Google Street View Widget 2.0.1 - 04/21/16
I have it implemented into one of my custom Web AppBuilder (Development Edition 2.0) maps as a widget. It works fine for about 4 seconds, then it grays out and gives me this error:
Oops! Something went wrong.
This page didn't load Google Maps correctly. See the JavaScript console for technical details.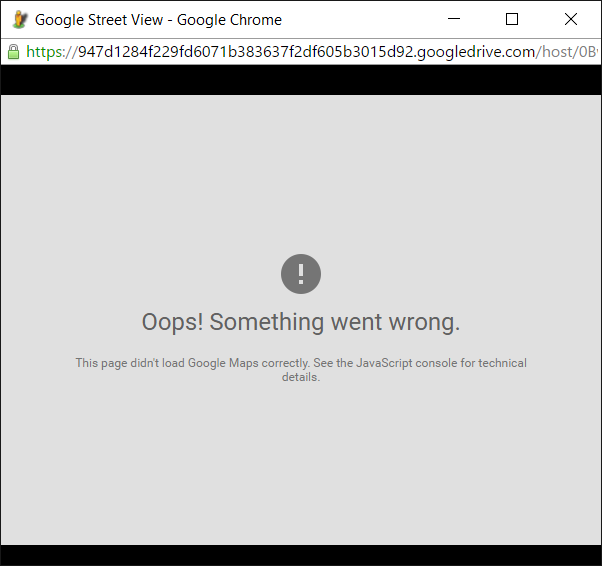 This error happens in Chrome or Firefox and happens in my Dev area or on a hosted site. Though, I can load Robert's example site just fine.
How do I go about fixing this?
Thanks in advance!
PS, When looking at the JavaScript console, this is the error:
"Google Maps API error: RefererNotAllowedMapError https://developers.google.com/maps/documentation/javascript/error-messages#referer-not-allowed-map-e...
Your site URL to be authorized: https://desktop-vdncsj2:3344/webappbuilder/apps/5/widgets/StreetView/StreetView.html?wbgColor=000000..."
1 Solution

MVP Esteemed Contributor
Mark as New

Bookmark

Subscribe

Mute

Email to a Friend
Adrian,
You need to follow the help document where it talks about obtaining a Google API Key for your site.
4 Replies