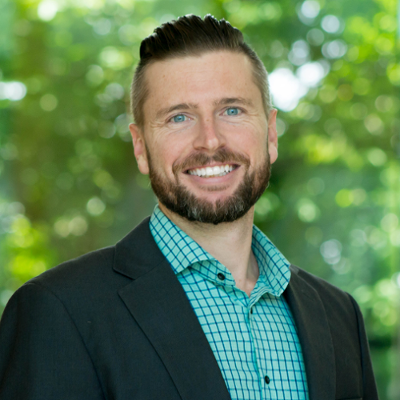 Mark as New

Mark as Read

Bookmark

Subscribe
Communication networks are continually evolving, and as these complex networks evolve, planners and engineers need the proper tools to design NextGen networks as effectively and efficiently as possible.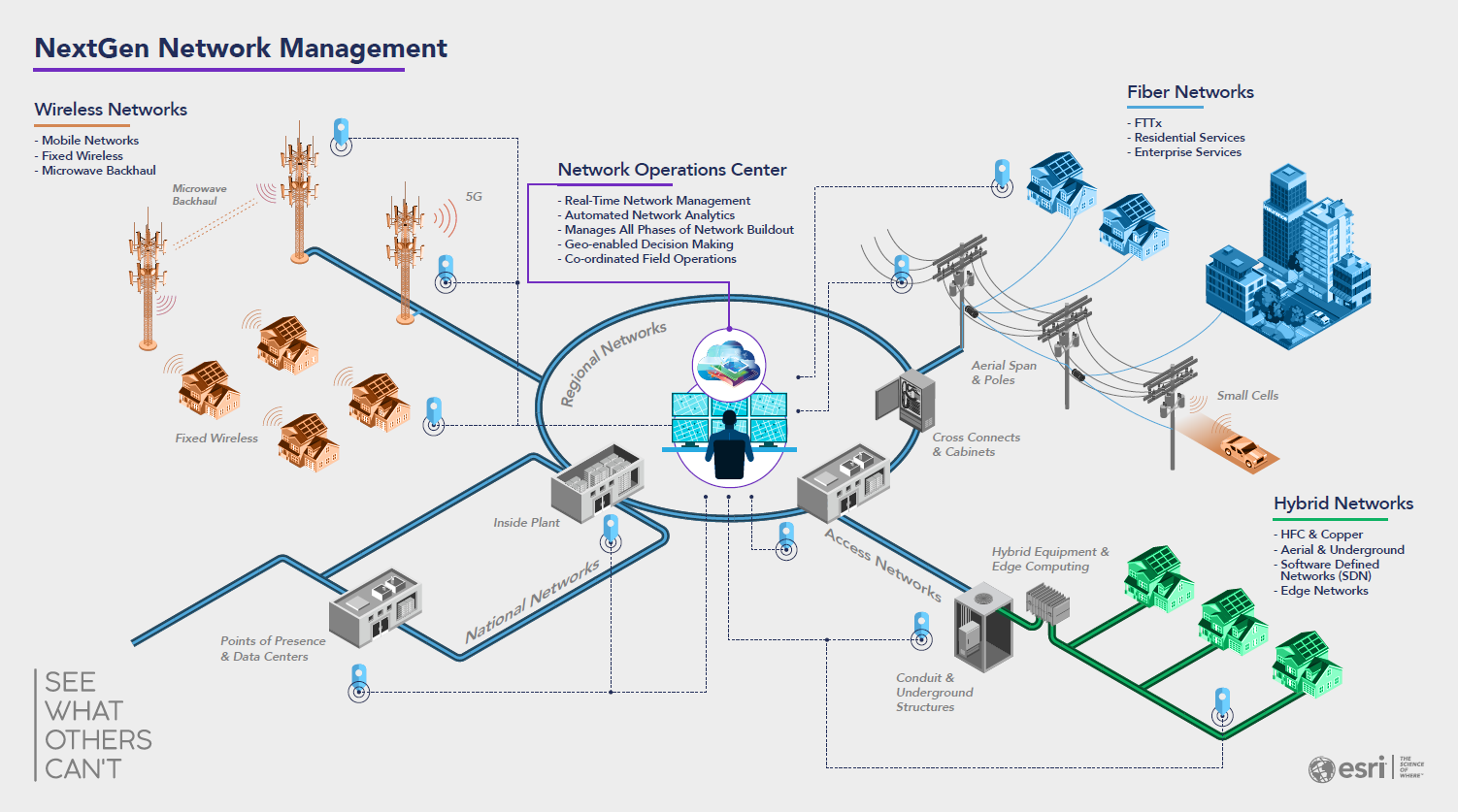 They need tools to properly design a network no matter the network technology or architecture, streamline the design through automation tools, track and manage all of the network designs supporting fiber densification and 5G build out, and easily share their designs to the field and others involved in the project. A complete GIS delivers solutions for all of these requirements, and ArcGIS is the only complete GIS designed for the telecommunications industry in mind. Let's explore how ArcGIS can support planning and engineering NextGen communication networks.
The Project Life Cycle
The project process begins with planning and extends through high-level design, detailed engineering, and into construction. Teamwork between the office and field forces is critical to a smooth and cost-effective process. Correct as-built information feeds the organizations' sales efforts and service qualification practices. All these functions can capitalize on the same data and GIS platform: ArcGIS.
Information plays a key role throughout the entire project life cycle. ArcGIS goes beyond powerful mapping to unify the necessary data. A modern communications network is complex. Reliable engineering builds on detailed models and architecture rules of the network that reflect the real world. It relies on state-of-the-art visualization and analytics. These communicate engineering trade-offs and decisions. Designing networks that support both wireless and fixed network services demand flowing coordination and clear collaboration between departments and contractors.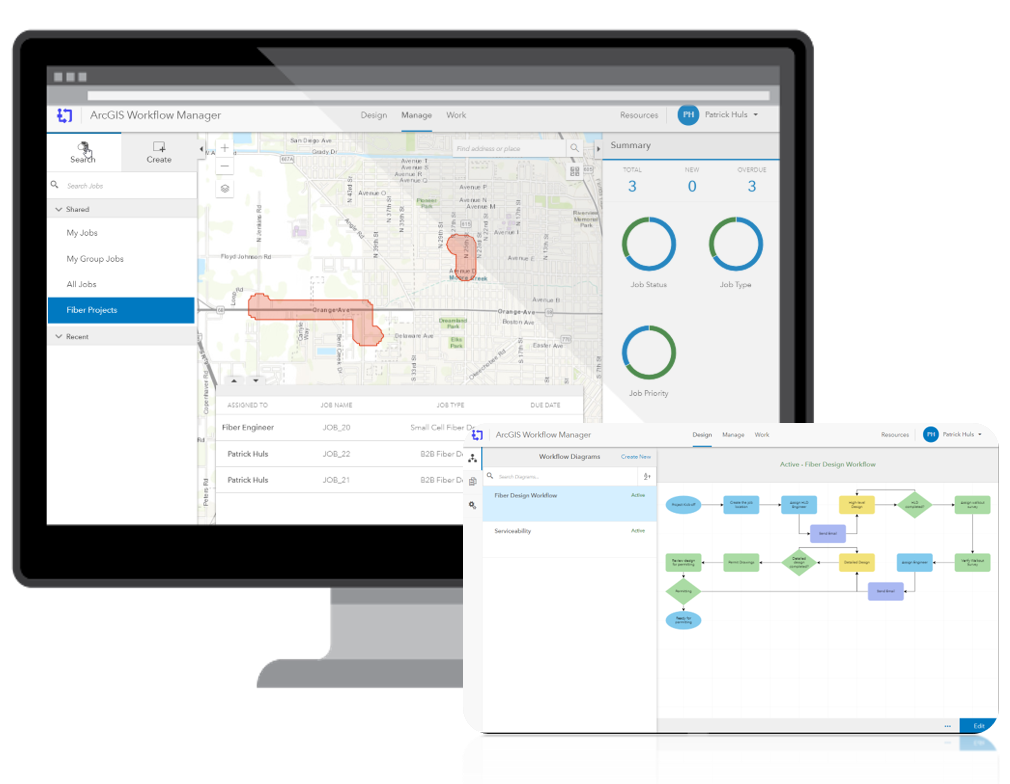 Ninja Pro Tip: ArcGIS Workflow Manager | Enterprise Workflow Management System
ArcGIS allows you to easily see and track all design projects and their phases; from planning through as-built. The worst scenario that can happen is two designs occur in the same location and duplicate efforts happen that could have been avoided using a GIS based project tracking tool to easily manage and see all the projects.
High-Level Design
ArcGIS uses location technology to hone engineering work and provides an all-inclusive view of the network and its surroundings. Bring the field to the engineer with remote engineering tools like street level imagery and access to planning datasets so that engineers can see the many factors impacting their work.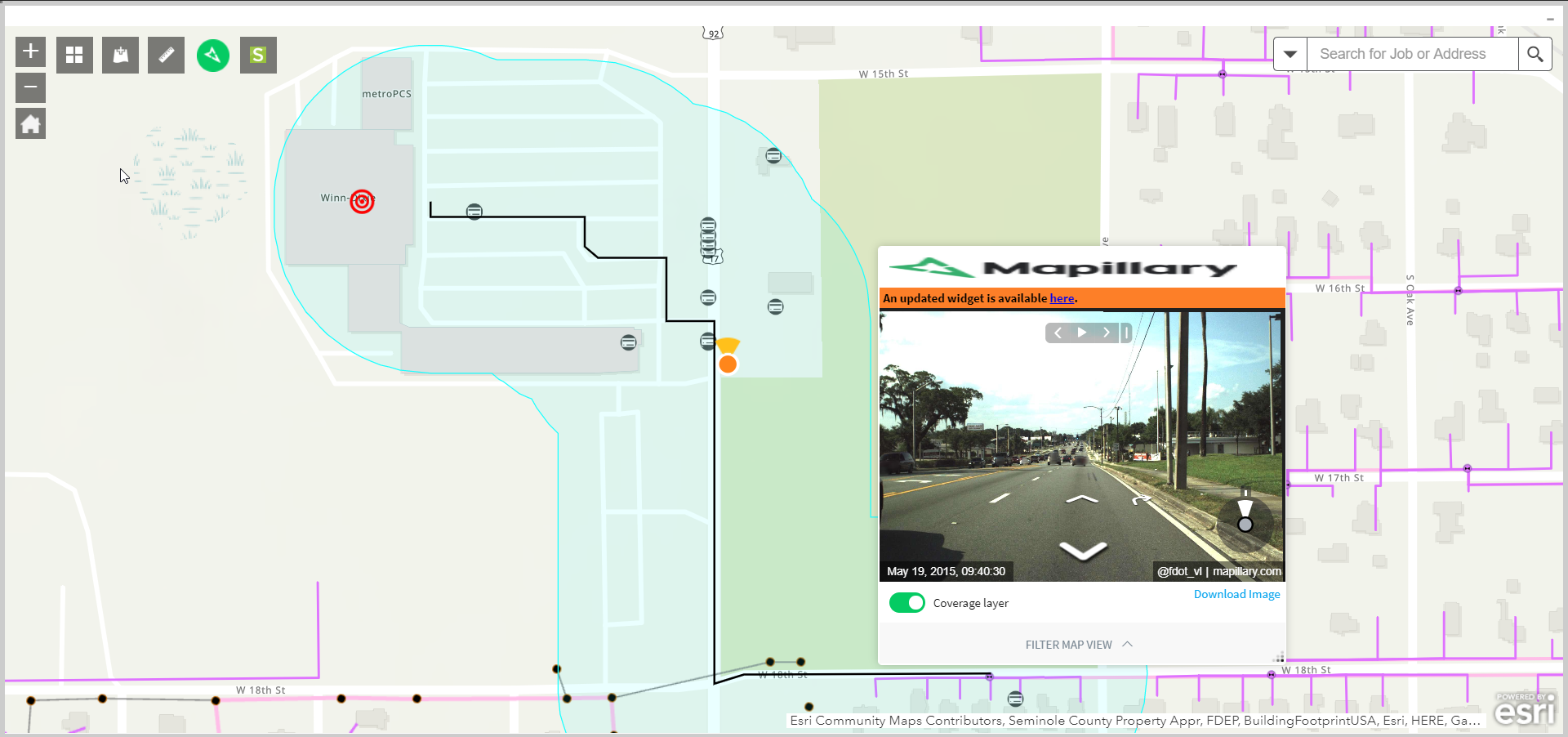 Compelling analytics and robust tracing actions highlight valuable insights to better understand network capacity and automate network routes. Whether its FTTx or fiber backhaul, enter in your design rules and let ArcGIS do the heavy lifting of returning a high-level design that is ready for a walkout.
Ninja Pro Tip: Backhaul Optimization Solution Template
Detailed Engineering
The robust rule engine and framework within ArcGIS allows engineers to set up the design criteria and make changes with ease. Import architecture rules and equipment templates and lock down changes to allow for consistent network designs. As a web services platform, ArcGIS allows engineers to design from anywhere using a web or mobile app, or a traditional desktop client.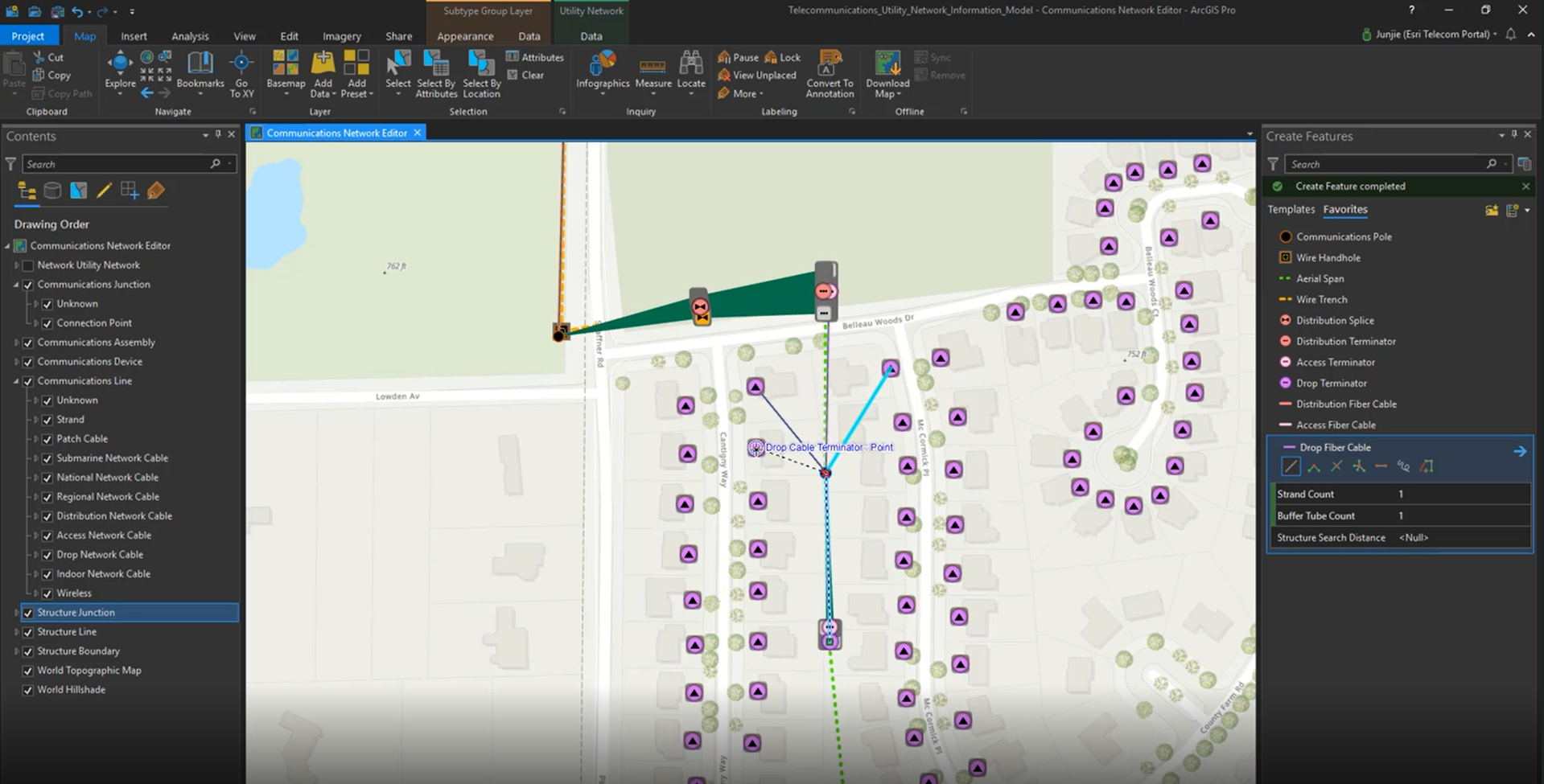 Ninja Pro Tip: Learn more about ArcGIS Utility Network Management
Along with traditional map views, schematic views are built into ArcGIS. Engineers need to evaluate detailed design considerations. To do so, they use schematics derived from the same solid data foundation stored in the GIS. As designs are completed and ready for permitting and construction, specific equipment details exist in the context of broad, location-based information. Reliable data reinforces tools to determine material and labor estimates based on actual field conditions, and generating an accurate BOM is quick and easy.
Coordination and Collaboration
Design information must be easily accessible to those that use it. Coordination and collaboration begin with a mobile-friendly technology platform. ArcGIS uses web services to reach out across the web and put the right information into the right hands, at the right time.
Convey Projects Widely on Any Device
ArcGIS changes the way field staff connect with engineering. It distributes information, map displays, and even 3D representations on any device. It does this for the office and the field—whether connected or disconnected.
Collaborate with Internal and External Participants
Crews, contractors, and planners alike all need design information like drawings and schematics. Internal and external stakeholders also need to share project updates. ArcGIS provides all members of project teams with the flexible, role-based information products they need to work together.
Distribute Design Information Instantaneously
ArcGIS promotes common understanding by communicating project information immediately. It works at the speed of a services-based architecture. It leverages cloud computing where needed and improves situational awareness at every point along design, construction, and operations workflows.
The Complete GIS—Supporting Planning and Engineering
Most telecommunications organizations already use GIS in some capacity. Yet how they use it is changing. ArcGIS is a complete GIS, meaning that it contains all the elements needed to meet planning and engineering challenges, not just to make conventional maps.
Ninja Pro Tip: ArcGIS Solutions for Telecom - Esri: Putting the Geospatial in 5G
ArcGIS supports real-world modeling. It delivers rich visualization and analytics with artificial intelligence (AI). It enables immediate coordination and collaboration with mobile apps and web browsers. It maintains key information needed for efficient design work. It discovers hidden meaning in data and distributes insights to everyone who needs business intelligence.
These capabilities unite all the phases of planning and engineering. They combine asset details with network performance and future plans. With location as the centerpiece, a complete design picture helps improve key performance indicators and business results. Telecom organizations face considerable challenges today and will continue to do so in the future. ArcGIS brings exceptional value to every organization's engineering, design, and construction practice.
Be sure to check out the upcoming three part webinar series on ArcGIS Utility Network Management.
- Webinar 1 (July 😎 : 7 Steps to get started with the Utility Network - 9:00am - 10:00am
- Webinar 2 (July 22) : The Business Value of ArcGIS Utility Network -9:00am - 10:00am
- Webinar 3 (August 5) : Migration and Implementation to ArcGIS Utility Network - 9:00am - 10:00am
Register Today: 2020 Utility Network Webinar Series
Patrick Huls
LinkedIn: Patrick Huls| Twitter: @SpatialNinja| GeoNet:Phuls-esristaff
You must be a registered user to add a comment. If you've already registered, sign in. Otherwise, register and sign in.