by
LauraBowden

Esri Contributor
Mark as New

Bookmark

Subscribe

Mute

Email to a Friend
This discussion is for all the people who use the T3G Org. Lately I've been wondering, how well are the Organization's Home page's Carousel and the Gallery working for you?
Currently, both the Carousel and the Gallery tab are pointing to the same group. Charlie Fitzpatrick has set it up with a dozen key "go-to" resource links right up front in the Carousel.

The Gallery tab includes the same 12 items, plus a variety of items related to activities (mostly from previous T3G Institutes) that you might want to revisit or use in a workshop.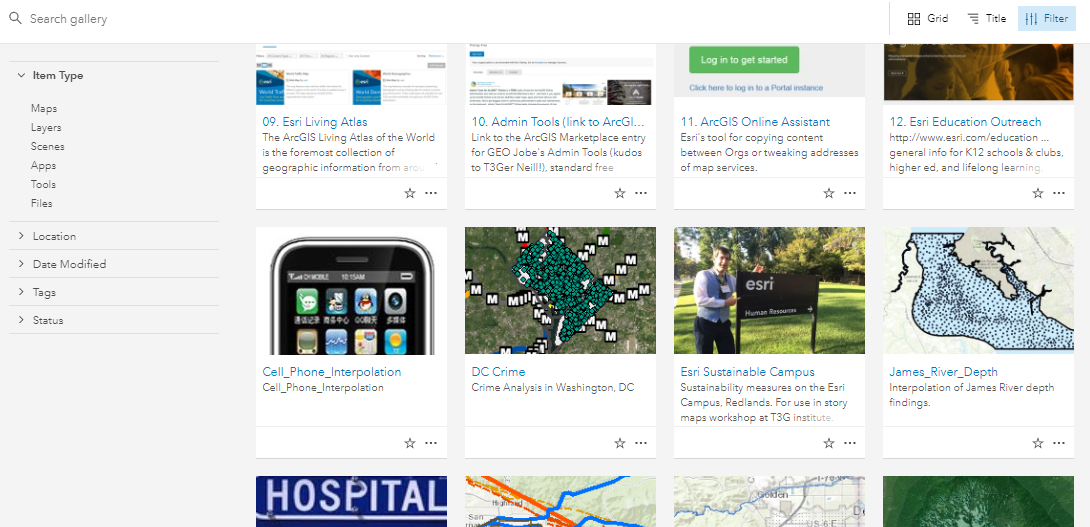 Are these links useful to you? If you use the T3G Org in your workshops, do you rely on any of these? If you mainly visit the Org as a sandbox, do you even notice these links? If so, which activity items in the Gallery have you found useful (or not at all useful)? Are there things you use all the time that you would like to see here?
The carousel and gallery can be set up to point to different groups. Does the current setup work for you, or would it be better to have the Gallery show only links to maps or other activity-related items?
Perhaps I should leave well enough alone, and remember the old New England adage, "If it ain't broke, don't fix it!" On the other hand, if I don't ask, I'll never know

.
Thanks in advance for your feedback below!
Laura Bowden
1 Reply

New Contributor II
Mark as New

Bookmark

Subscribe

Mute

Email to a Friend
Leave it alone, please!

I don't go to the Gallery or Use the resources there.......maybe I should start, will check it out.
Have come to rely on the Carousel and "Like It" Use it, Depend On It.