New Contributor II
Mark as New

Bookmark

Subscribe

Mute

Email to a Friend
Hello and thanks for not getting deterred by the aweful title - it's difficult to put the issue in one sentence.
So this is what I want to do: I am working on aproject about the interaction of people and urban rivers in Nairobi. I want to show on a map how wealthy areas tend to be located upstream of the river, where they are still clean, while most slums are located downstream - and I want to have statistical proof for the correlation. I have traced the rivers (polylines), slums and wealthy areas (polygons). Now, is there any statistical analysis tool, which I can use to calculate a correlation between the "age" of the river (i.e. how many meters it has "spend" in the city area of Nairobi?
To make it easier to understand, here is a picture of the map so far. Green are welathy areas; gray are informal settlements; the rivers flow from West to East.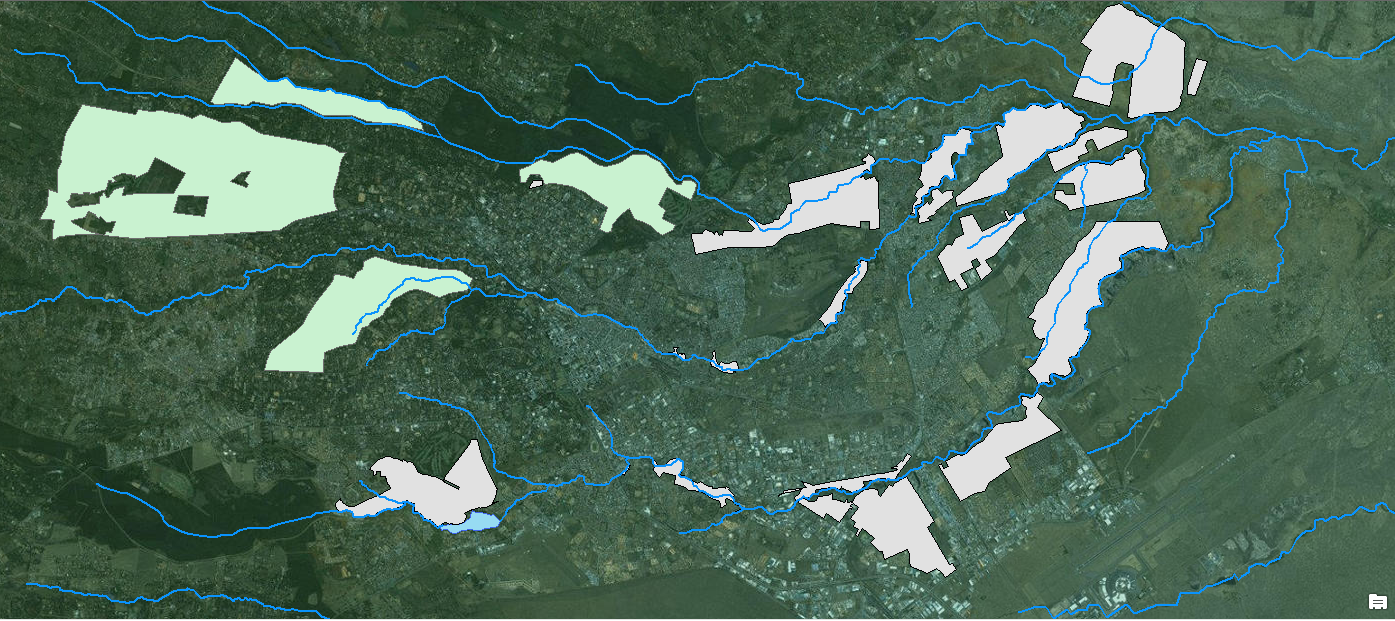 If this is not possible I would let the map speak for itself, I think I can make the point without statistical analysis, but it would be really neat "proof" it.
Any suggestions?
Thank you very much!
/Theo
1 Solution

Occasional Contributor
Mark as New

Bookmark

Subscribe

Mute

Email to a Friend
Great question Theo!
To compare the data I would start making sure each polygon on the river had a unique ID, such as a
"neighborhood" name.
Then you can set up a scale for the wealth either income per capita or wages....I'm not sure how they track it in Nairobi in the United States we have a Census we can go to for income data.
Next you could add up the total meters of the river in each polygon, this is the more difficult because how do you track the "age" of a river? Is that in terms of distance from the source? You could create station points along the river, or maybe generate a distance raster from a point layer identifying the "point of origin" on each river.
SpatialEcology.com has some good tools for calculating line distance in a polygon.
sumlinelengthsinpolys(line, poly, field, [weight], [where], [update]);

| | |
| --- | --- |
| line | the input line feature source |
| poly | the input polygon feature source |
| field | the output field name |
| [weight] | the name of the field in the line attribute table to weight the line lengths by (default=no weight field) |
| [where] | the selection statement that will be applied to the polygon feature data source to identify a subset of polygons to process (see full Help documentation for further details) |
| [update] | (TRUE/FALSE) if TRUE and you specify an existing field, the existing field will be updated rather than generating an error message (default=FALSE); warning: this option will result in overwriting of existing data and is therefore potentially dangerous. |
Example 1: sumlinelengthsinpolys(line="C:\data\roads.shp", poly="C:\data\counties.shp", field="ROADLENGTH");
Example 2: sumlinelengthsinpolys(line="C:\data\roots.shp", poly="C:\data\plots.shp", field="LINESUM", weight="WIDTH");

WARNING!: this command may take a long time to run.
Once you get those two data types you can add the new fields to each polygon layer so you have a "neighborhood" with the wealth and river age in the same polygon feature class.
The next step is to use the chart tools to do a scatter plot and to see if the relationship is linear. If the data has a positive linear relationship then you could say as the river age increases the wealth decreases.
Hope this at least gets you pointed in the right direction. To my knowledge there is no "correlation" tool in ArcMAP. I think you can make correlations in the Geo-statistical analyst extension but i'm am not positive.
Thank you again for this challenging question!
Dan
10 Replies