MVP Frequent Contributor
Mark as New

Bookmark

Subscribe

Mute
Trying to calculate acreage/area from polygon array loaded from JSON result of map service query and running into issue with geometries that contain "holes". From what I know, the first list of coordinate pairs (index 0) is the "outer" polygon, then all other coordinate pairs would be the interior rings. This is easiest enough to setup a condition to identify and calculate total area. For example area of a polygon with two interior rings could be determined by:
ring[0] area - ring[1] area - ring[2] area = total area
Got it. However, what if the polygon consists of 1 ring with interior rings and a ring coincident. That is, there are what looks like 2 polygons coincident to each other but one of them contains holes.
How do I come up with the total area in this case? Example below shows 2 coincident polygons, 1 with holes that needs to have the area of interior rings subtracted from the overall ring, while the coincident polygon only has 1 ring that must be added to the total area.
Edit: to simplify my question, how do I arrive at the count of 2 rings (area of 1 "island" ring, area 1 outer ring - total area of 7 interior rings)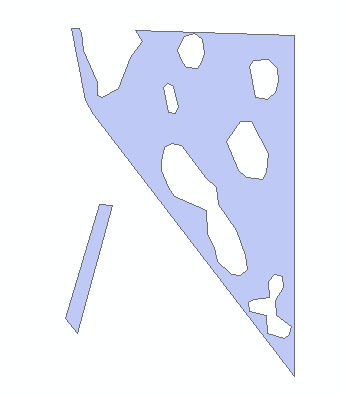 Here's the json for the rings in picture:
{
        "rings" : [
          [
            [
              -8960520,
              3141929
            ],
            [
              -8960482,
              3141916
            ],
            [
              -8960381,
              3141979
            ],
            [
              -8960297,
              3142183
            ],
            [
              -8960220,
              3142291
            ],
            [
              -8960267,
              3142363
            ],
            [
              -8959212,
              3142329
            ],
            [
              -8959216,
              3140075
            ],
            [
              -8960546,
              3141806
            ],
            [
              -8960599,
              3141897
            ],
            [
              -8960692,
              3142376
            ],
            [
              -8960637,
              3142374
            ],
            [
              -8960622,
              3142346
            ],
            [
              -8960608,
              3142230
            ],
            [
              -8960516,
              3142015
            ],
            [
              -8960520,
              3141929
            ]
          ],
          [
            [
              -8960049,
              3141823
            ],
            [
              -8960001,
              3141812
            ],
            [
              -8959983,
              3141860
            ],
            [
              -8960017,
              3141990
            ],
            [
              -8960058,
              3142011
            ],
            [
              -8960083,
              3141987
            ],
            [
              -8960049,
              3141823
            ]
          ],
          [
            [
              -8959472,
              3141918
            ],
            [
              -8959391,
              3141908
            ],
            [
              -8959340,
              3141951
            ],
            [
              -8959320,
              3142025
            ],
            [
              -8959325,
              3142112
            ],
            [
              -8959387,
              3142168
            ],
            [
              -8959484,
              3142163
            ],
            [
              -8959513,
              3142124
            ],
            [
              -8959472,
              3141918
            ]
          ],
          [
            [
              -8959828,
              3142151
            ],
            [
              -8959808,
              3142211
            ],
            [
              -8959826,
              3142302
            ],
            [
              -8959875,
              3142344
            ],
            [
              -8959943,
              3142320
            ],
            [
              -8959986,
              3142228
            ],
            [
              -8959959,
              3142148
            ],
            [
              -8959927,
              3142120
            ],
            [
              -8959858,
              3142113
            ],
            [
              -8959828,
              3142151
            ]
          ],
          [
            [
              -8959663,
              3141625
            ],
            [
              -8959585,
              3141438
            ],
            [
              -8959535,
              3141389
            ],
            [
              -8959428,
              3141379
            ],
            [
              -8959399,
              3141424
            ],
            [
              -8959384,
              3141551
            ],
            [
              -8959497,
              3141761
            ],
            [
              -8959571,
              3141760
            ],
            [
              -8959663,
              3141625
            ]
          ],
          [
            [
              -8959960,
              3141599
            ],
            [
              -8960028,
              3141615
            ],
            [
              -8960074,
              3141591
            ],
            [
              -8960098,
              3141499
            ],
            [
              -8960095,
              3141436
            ],
            [
              -8960049,
              3141324
            ],
            [
              -8960008,
              3141263
            ],
            [
              -8959800,
              3141169
            ],
            [
              -8959793,
              3141018
            ],
            [
              -8959741,
              3140928
            ],
            [
              -8959722,
              3140834
            ],
            [
              -8959630,
              3140750
            ],
            [
              -8959570,
              3140741
            ],
            [
              -8959528,
              3140782
            ],
            [
              -8959542,
              3140877
            ],
            [
              -8959601,
              3141041
            ],
            [
              -8959719,
              3141213
            ],
            [
              -8959733,
              3141325
            ],
            [
              -8959797,
              3141385
            ],
            [
              -8959960,
              3141599
            ]
          ],
          [
            [
              -8959346,
              3140751
            ],
            [
              -8959388,
              3140703
            ],
            [
              -8959379,
              3140596
            ],
            [
              -8959479,
              3140586
            ],
            [
              -8959518,
              3140560
            ],
            [
              -8959514,
              3140503
            ],
            [
              -8959403,
              3140475
            ],
            [
              -8959393,
              3140355
            ],
            [
              -8959278,
              3140327
            ],
            [
              -8959249,
              3140351
            ],
            [
              -8959237,
              3140406
            ],
            [
              -8959333,
              3140479
            ],
            [
              -8959343,
              3140579
            ],
            [
              -8959291,
              3140665
            ],
            [
              -8959296,
              3140732
            ],
            [
              -8959346,
              3140751
            ]
          ],
          [
            [
              -8960421.4573999997,
              3141207.5951999985
            ],
            [
              -8960651.4805999994,
              3140355.0742999986
            ],
            [
              -8960730.3613000009,
              3140457.7377999984
            ],
            [
              -8960501.8148999996,
              3141210.1849000007
            ],
            [
              -8960421.4573999997,
              3141207.5951999985
            ]
          ]
        ]
      }
5 Replies