New Contributor II
Mark as New

Bookmark

Subscribe

Mute
Hi, I'm hopping for some help as I work through the process of writing a piece of code to produce an output of polygon intersects. My shape file contains many polygons which I would like to determine if any of them intersect and if they do add that intersect results to a new shape file. The code I used is below. I'm getting and error which is shown in a pic below.
Ultimately I'd like to have a single output shape file containing all intersect results. If you know a more efficient way or know how to make what I have work I am all ears!
I have attached a sample of the polygons. Many thanks for your attention!
I'm limited to using ArcMap 10.7 and python 2.7
```
import arcpy
from arcpy import env
import os
##Set working directory and workspace
wk_dir = os.getcwd()
env.workspace = wk_dir
##Assign feature class and working fields
fc = wk_dir + '\\CBT_Composite.gdb\\example_polys'
fields = ['RecordID', 'SHAPE@']
##Assign output file path and name
out = wk_dir + '\\output.gdb\\A'
##print fc_path + fc
with arcpy.da.SearchCursor(fc, fields) as cursor:
for row in cursor:
record = '{0}'.format(row[0]).split('.')[0]
polygon = row[1]
for row2 in cursor:
if row2 != row:
arcpy.Intersect_arc(row2[1], polygon, out +record)
```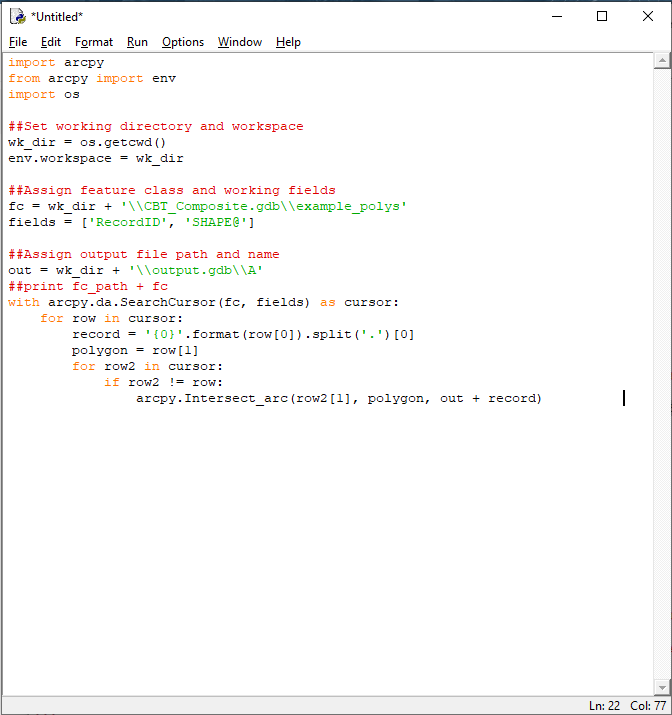 1 Solution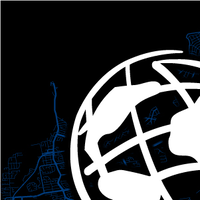 by
MehdiPira1

Esri Contributor
Mark as New

Bookmark

Subscribe

Mute
Hi Kathy Gillis‌,
If you change the variables and run the following code you should get the intersected shapes, all in one feature class:
arcpy

.

env

.

workspace 

=

 r

"workspace path"


arcpy

.

analysis

.

Intersect

(

"example_polys 

#", "example_polys_Intersect", "ALL", None, "INPUT")



‍‍‍‍‍

‍

‍

‍

‍
4 Replies