New Contributor II
Mark as New

Bookmark

Subscribe

Mute
Hi,
I made a python script which is finding min & max values within a specified buffer around specific location and pointing these locations on the map/raster.
This is now configured in a Toolbox as a geoprocessing tool for ArcGIS Pro with configurable parameters.
While running the tool, it is outputting the clipped raster, table (with min max values) and point feature class with min max values with coordinates to show min/max locations on the map.
How to add table/raster/feature class which are outputted by the tool directly to file geodatabase? Appreciate for any hints 🙂
I tired "Add output datasets to an open map" but without success: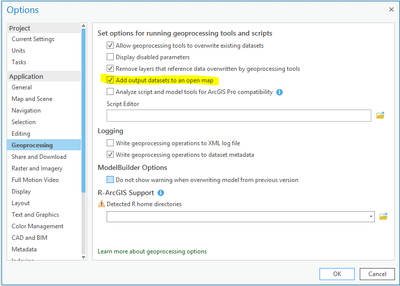 I tried as well adding the extra code in the python script (did not output dataset to Contents pane)
arcpy.management.MakeFeatureLayer('Min_max_points', 'Min_max_points')
arcpy.AddMessage("Min&Max table added to Contents")
All these datasets are outputted to file gedatabase

but nothing is added to Contents pane

15 Replies