New Contributor
Mark as New

Bookmark

Subscribe

Mute

Email to a Friend
Hello,
Can anyone suggest me to draw the perpendicular line for very point automatically using python/arcobject. That Perpendicular line touch with line feature. Kindly reference the below image.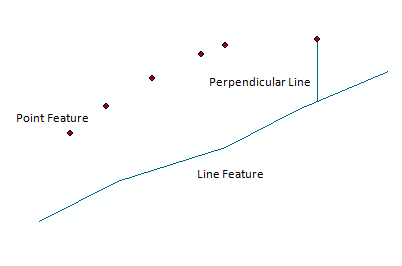 Regards,
Raj
1 Solution

by
XanderBakker

Esri Esteemed Contributor
Mark as New

Bookmark

Subscribe

Mute

Email to a Friend
The code below seems to do the job, BUT this is based on a single line. If you have several polylines you will have to include logic to select the polyline to "snap to".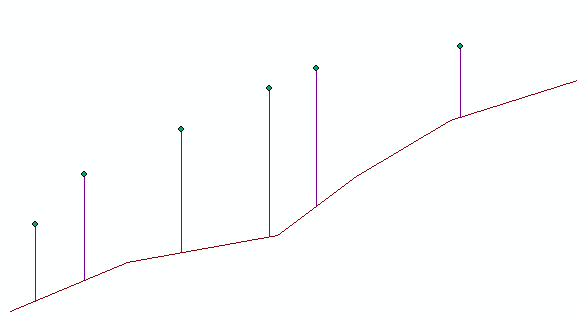 import arcpy

def main():
    fc_lines = r'D:\Xander\GeoNet\Perpendicular\data.gdb\lines'
    fc_points = r'D:\Xander\GeoNet\Perpendicular\data.gdb\points'
    fc_out = r'D:\Xander\GeoNet\Perpendicular\data.gdb\result'
    tolerance = 15000

    # get first line
    polyline = arcpy.da.SearchCursor(fc_lines, ('SHAPE@')).next()[0]

    lines = []
    with arcpy.da.SearchCursor(fc_points, ('SHAPE@')) as curs:
        for row in curs:
            pnt = row[0]
            line = createVerticalLine(pnt.firstPoint, tolerance, pnt.spatialReference)
            mp = getIntersectingPoints(line, polyline)
            if mp.pointCount > 0:
                pnt2 = getNearestPoint(mp, pnt.firstPoint)
                vert_line = arcpy.Polyline(arcpy.Array([pnt.firstPoint, pnt2]),
                                       pnt.spatialReference)
                lines.append(vert_line)
            else:
                # no intersecting within tolerance
                pass

    arcpy.CopyFeatures_management(lines, fc_out)

def createVerticalLine(pnt, tolerance, sr):
    return arcpy.Polyline(arcpy.Array([arcpy.Point(pnt.X, pnt.Y+tolerance),
                                       arcpy.Point(pnt.X, pnt.Y-tolerance)]),
                                       sr)

def getIntersectingPoints(line, polyline):
    return polyline.intersect(line, 1)

def getNearestPoint(mp, pnt):
    nearest_pnt = None
    for p in mp:
        if nearest_pnt is None:
            nearest_pnt = p
            min_dist = getDistance(p, pnt)
        else:
            dist = getDistance(p, pnt)
            if dist < min_dist:
                nearest_pnt = p
                min_dist = dist
    return nearest_pnt

def getDistance(p1, p2):
    import math
    return math.sqrt((p1.X-p2.X)**2 + (p1.Y-p2.Y)**2)

if __name__ == '__main__':
    main()
7 Replies