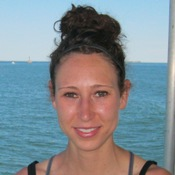 New Contributor III
Mark as New

Bookmark

Subscribe

Mute
Hi,
I'm trying to take a csv that was created from a pandas dataframe that has a wkt string as the geometry information (it's a line geometry), and create a line feature class containing all the fields within the csv (15 or so). I can use the arcpy.FromWKT to crate a geometry object and can put that into a list, and use the arcpy.CopyFeatures_management to create a featureclass from that list, however, it doesn't contain any other fields from the CSV, it only contains the geometry, so just creates a line.
Here for a test, I'm just trying to bring over 1 other field (id). I have tried creating a list of lists with it, but I get an error with the CopyFeatures function that it doesn't like that.
I can also use a .da.insertcursor to get each value for each field and and write it out to a file row by row, but I have about 15 fields with millions and millions of rows and feel like there needs to be a more computationally efficient way of doing this.
I'm not sure if a dictionary would work (instead of a list). I don't have any experience working with dictionaries, but I can't find any info on how to use a dictionary to create a featureclass even if I could figure them out. Does anyone have any ideas?
In summary: how to I convert a csv with wkt geometry information into a feature class containing all fields?
import arcpy

# Set environments / workspace.  
arcpy.env.workspace = r"C:\Users\bhodge\Dropbox (New England Aquarium)\AIS_Projects\AISData\AISData.gdb"
arcpy.env.overwriteOutput = True

# Define Spatial Reference
wkt_sr = 'GEOGCS["GCS_WGS_1984",DATUM["D_WGS_1984",SPHEROID["WGS_1984",6378137,298.257223563]],PRIMEM["Greenwich",0],UNIT["Degree",0.017453292519943295]]'
sr = arcpy.SpatialReference()
sr.loadFromString(wkt_sr)

inputFile = r'C:\Users\bhodge\Projects\MMC_AIS\Data\TEST_OUTPUT_FILES\TestOutput.csv'

# Create an empty feature list
FeatureList = []
# iterate through table to pull geometries
fields = ['wkt_geom', 'id']
# array = arcpy.Array()
with arcpy.da.SearchCursor(inputFile, fields) as cur:
    for row in cur:
        # Name variables and assign values starting on first record of table
        wkt = row[0]
        id = row[1]
        tempWKT = arcpy.FromWKT(wkt, sr)
        FeatureList.append(tempWKT)
    else:
        pass
del cur

arcpy.CopyFeatures_management(FeatureList, r"C:\Users\bhodge\Dropbox (New England Aquarium)\AIS_Projects\AISData\AISData.gdb\TEST50")
1 Solution

by
jcarlson

MVP Esteemed Contributor
Mark as New

Bookmark

Subscribe

Mute
If you've got your data in a pandas dataframe, I'd definitely skip the export/import.
Using GeoPandas and Shapely, along with Arcgis, you can get your original dataframe into a feature class in only a few lines.
from geopandas import GeoDataFrame
from shapely import wkt
from arcgis.features import GeoAccessor

gdf = GeoDataFrame(df, crs="EPSG:3435", geometry=df['wkt'].apply(wkt.loads))
sedf = GeoAccessor.from_geodataframe(gdf)

sedf.spatial.to_featureclass('path/to/your.gdb/output-layer-name')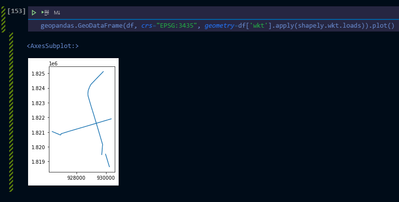 Edit: Nearly forgot to mention, but if you want to just work w/ the CSV, as you already have it, GeoPandas' read_file() can take in a CSV and will correctly interpret a WKT column as geometry.
- Josh Carlson
Kendall County GIS
13 Replies