New Contributor II
Mark as New

Bookmark

Subscribe

Mute

Email to a Friend
Hi everyone.
I´m trying to set up a transit enabled Network Dataset. I used the Add GTFS to a Network Dataset Tool. So far it seems to have worked after getting rid of several errors during the process. Now as I wanted to use my network with the ArcMAP Network Analyst, the program always shows the following error Message: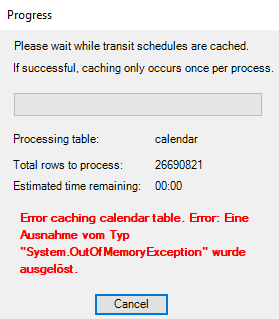 I excluded all the Network Locations except Streets_Use_This_one and enabled exclude restricted portions of the network. Also in the polygon generation tab i checked TransitLines and connectors as excluded sources.
What could be the reason for this to show up? And how can I prevent this error from happening?
Thanks to everyone, best regards, Tim
1 Solution

Esri Regular Contributor
Mark as New

Bookmark

Subscribe

Mute

Email to a Friend
As explained in my reply to your previous post, this tool is deprecated and no longer supported, so I cannot provide extensive assistance. The caching error in your screenshot above shows "OutOfMemoryException", which to me indicates that your computer is out of memory. There really isn't anything I can do to help you with that. It seems like your transit network is simply too large for ArcMap's memory resources to handle. ArcMap is a 32-bit application that cannot make use of your computer's full memory resources (so getting a better computer will not help). You could install ArcGIS Server and register the transit evaluator with Server, and that might fix it.
It would probably be easier at this point to just install ArcGIS Pro and use the newer, better functionality included out of the box there. This tutorial shows you exactly how to create a transit-enabled network in Pro: Create and use a network dataset with public transit data—ArcGIS Pro | Documentation
13 Replies