New Contributor III
Mark as New

Bookmark

Subscribe

Mute

Email to a Friend
I have 2 folders, one with 3 shapefiles and one with 11. I want to find the intersection for all possible combinations of the shapefiles in each folder, for a total of 33 resulting intersection shapefiles. I have tried creating 2 sub-models that iterate through the folders, and used the output of each submodel as the inputs for the Intersect tool. However, the model results in only one intersection shapefile. How do I get the intersect tool to use all combinations of the shapefiles?
Test_sub2 submodel Test_sub1 submodel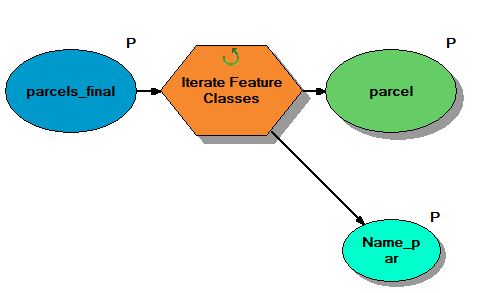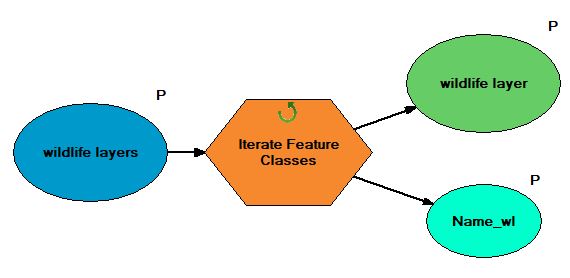 1 Solution

by
curtvprice

MVP Esteemed Contributor
Mark as New

Bookmark

Subscribe

Mute

Email to a Friend
Sorry Rebecca, been busy teaching, hopefully this will help you or someone else.
Here's the help on nesting models
Integrating a model within a model—Help | ArcGIS Desktop
Here's an example model that does nested loops: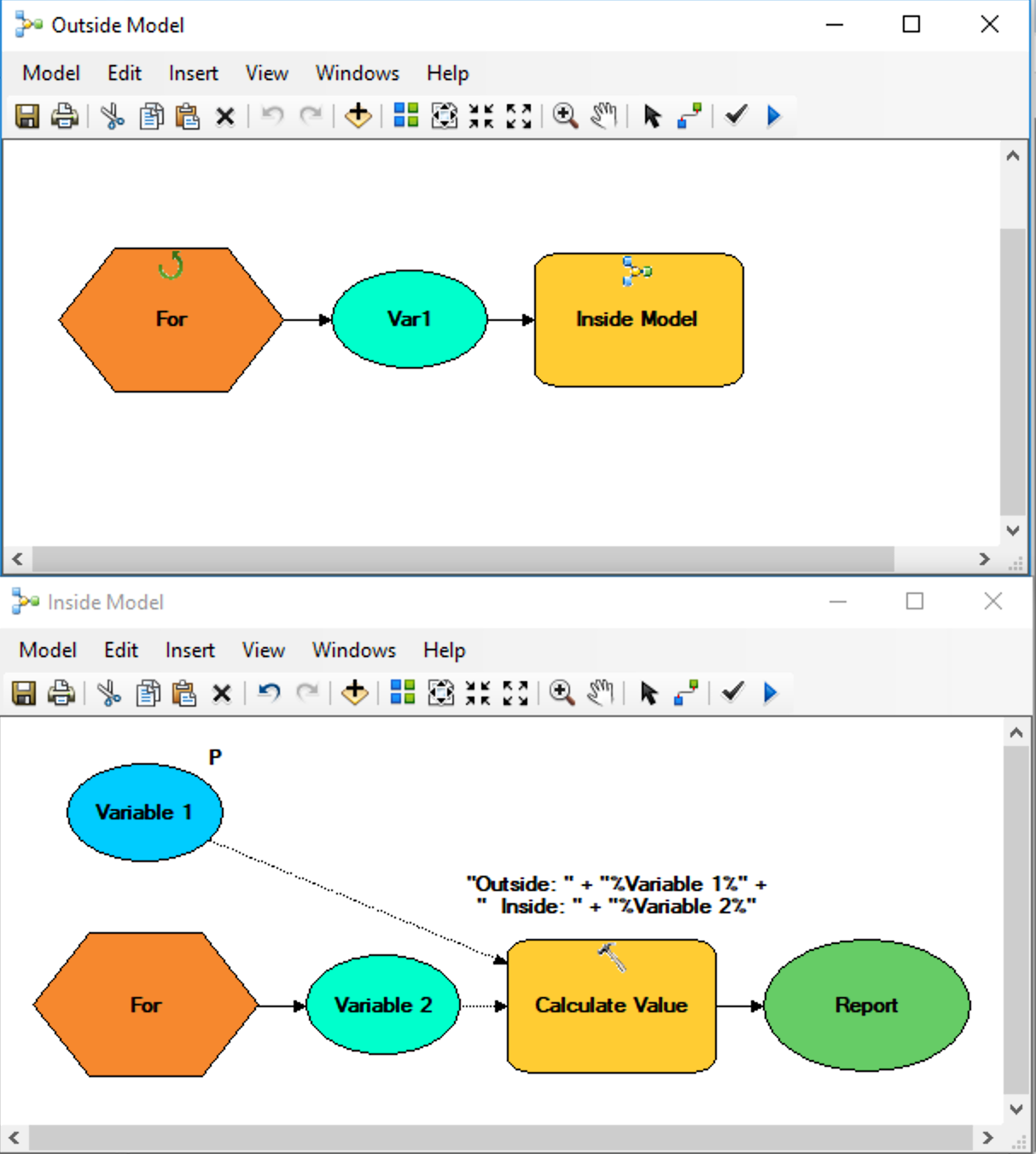 Executing (For): IterateCount 1 3 1
Start Time: Thu Feb 21 01:28:34 2019
Succeeded at Thu Feb 21 01:28:34 2019 (Elapsed Time: 0.00 seconds)
Executing (Inside Model): InsideModel 1
Start Time: Thu Feb 21 01:28:34 2019
Executing (For): IterateCount 1 3 1
Start Time: Thu Feb 21 01:28:34 2019
Succeeded at Thu Feb 21 01:28:34 2019 (Elapsed Time: 0.00 seconds)
Executing (Calculate Value Print Values): CalculateValue ""Outside: " + "1" + " Inside: " + "1"" # Variant
Start Time: Thu Feb 21 01:28:34 2019
Value = Outside: 1 Inside: 1
Succeeded at Thu Feb 21 01:28:34 2019 (Elapsed Time: 0.00 seconds)
Executing (For): IterateCount 1 3 1
Start Time: Thu Feb 21 01:28:34 2019
Succeeded at Thu Feb 21 01:28:34 2019 (Elapsed Time: 0.00 seconds)
Executing (Calculate Value Print Values): CalculateValue ""Outside: " + "1" + " Inside: " + "2"" # Variant
Start Time: Thu Feb 21 01:28:34 2019
Value = Outside: 1 Inside: 2
Succeeded at Thu Feb 21 01:28:34 2019 (Elapsed Time: 0.00 seconds)
<<snip>>
Executing (For): IterateCount 1 3 1
Start Time: Thu Feb 21 01:28:34 2019
Succeeded at Thu Feb 21 01:28:34 2019 (Elapsed Time: 0.00 seconds)
Executing (Calculate Value Print Values): CalculateValue ""Outside: " + "3" + " Inside: " + "2"" # Variant
Start Time: Thu Feb 21 01:28:34 2019
Value = Outside: 3 Inside: 2
Succeeded at Thu Feb 21 01:28:34 2019 (Elapsed Time: 0.00 seconds)
Executing (For): IterateCount 1 3 1
Start Time: Thu Feb 21 01:28:34 2019
Succeeded at Thu Feb 21 01:28:34 2019 (Elapsed Time: 0.00 seconds)
Executing (Calculate Value Print Values): CalculateValue ""Outside: " + "3" + " Inside: " + "3"" # Variant
Start Time: Thu Feb 21 01:28:34 2019
Value = Outside: 3 Inside: 3
Succeeded at Thu Feb 21 01:28:34 2019 (Elapsed Time: 0.00 seconds)
Executing (For): IterateCount 1 3 1
Start Time: Thu Feb 21 01:28:34 2019
Succeeded at Thu Feb 21 01:28:34 2019 (Elapsed Time: 0.00 seconds)
Succeeded at Thu Feb 21 01:28:34 2019 (Elapsed Time: 0.02 seconds)
Executing (For): IterateCount 1 3 1
Start Time: Thu Feb 21 01:28:34 2019
Succeeded at Thu Feb 21 01:28:34 2019 (Elapsed Time: 0.00 seconds)
8 Replies