New Contributor II
Mark as New

Bookmark

Subscribe

Mute

Email to a Friend
Is there a way to create a selection halo in ArcPro rather than just having the color of the feature change to the selection color? When using the select by attribute feature in ArcPro to select multiple point features that are symbolized as small dots with labels over them, I then press "zoom to" to see where those points are on the map. If the selected points happen to be scattered over a large area, I can't see where the selected points are because the points has just changed color and no selection halo is created. I understand that sometimes the selection halo in ArcMap is annoying because it blocks the view of the actual feature when you zoom in. However, the selection halo is extremely useful when zooming out to smaller scale to see where multiple selected features are within context of your map. The two images are screen captures from ArcMap and ArcPro, both have the exact same data, selected features, symbolization, and same reference scale set. In the ArcPro capture you can't tell where the selected features are. In the the ArcMap capture it's very easy to see where the selected features are. Does anyone know if there is a way to turn on selection halos in ArcPro?
2 Replies

Esri Contributor
Mark as New

Bookmark

Subscribe

Mute

Email to a Friend
ArcGIS Pro offers many options to customize feature selection, including how selected features are highlighted in the map. Once you have opened an ArcGIS Pro, navigate to the Project tab and click Options. From here, click on Selection and you will be presented with options to alter the selection configuration. To achieve similar results to those you have specified, I suggest setting the selection colour to R:0 G:255 B:255.
Selection options—ArcGIS Pro | Documentation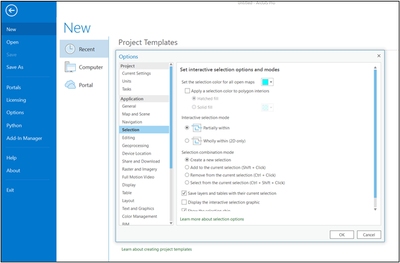 Regards,
Matthew
New Contributor II
Mark as New

Bookmark

Subscribe

Mute

Email to a Friend
I don't think this truly addresses the question - @ZachAnderson2 is asking about the bright CYAN halo that shows in ArcMap when something is selected. The halo makes it much easier to see selected points. The color alone is not enough.
I have changed the selection color in Pro and two things happen. 1. like @ZachAnderson2 i cannot see the points until I zoom way in - and that doesn't help me.
2. in a current project (actually an esri class), the selection color is suddenly PINK even though I have the selection color set to 0/255/255. Please see attached. Using ArcPro 2.8.3, Win10, ESRI earthquake data on 3D map; and ArcMap 10.8
Thank you