New Contributor III
Mark as New

Bookmark

Subscribe

Mute
I am trying to select zonetypes (eg forest, agriculture) within a municipality and to show the area of each zonetype in this municipality.
I am doing this in ModelBuilder and will export it to a python script later on.
I am stuck with following Points
How can I tell ModelBuilder to perform the task on the municipality I click in with my Cursor? I heard Feature sets are helpful but I don't really understand how they work and how I must implement one as a pointer
How can I get the area statistics? I thought by using the Calculate Area tool. This would create a new feature class.Another option would be exporting the selected data as a table and perform a summary on it. However, these two ways do not work with the "select layer by Location tool" as this requires a layer file as input

This question is also posted here: arcgis desktop - Select by point using ModelBuilder? - Geographic Information Systems Stack Exchange

1 Solution

Regular Contributor II
Mark as New

Bookmark

Subscribe

Mute
The Select Layer by Location tool requires a Layer object as input so there shouldn't be any need for you to create a layer file on disk. The MakeFeatureLayer tool would be used to create the layer object for you. The reason why the select tool needs the layer object is because you can only apply a selection against a layer object. For example, say that you have a point feature class and you want to select the point with OID 3. To do this you would need to open ArcMap, add the data to the map, and then select the point. When you added the data to the TOC of the map document you've essentially created a layer object, which you can apply selections against.
I would think that if you want to calculate the area of data based on where you clicked within ModelBuilder you'd want to use a FeatureSet. The FeatureSet would essentially allow you to use the tool's dialog to create a point feature on the fly (i.e. when the FeatureSet parameter is active it would allow you to click on the map and it would create points there without you having to either create a feature class or start an edit session). You would use these points to select the intersecting polygons that you want to calculate the areas against. If you wanted to update the source data you could use the CalculateField tool to calculate the area in the units you're needing or you could make a copy of the data and perform the calculation there.
I would assume at the simplest your model would look as shown below.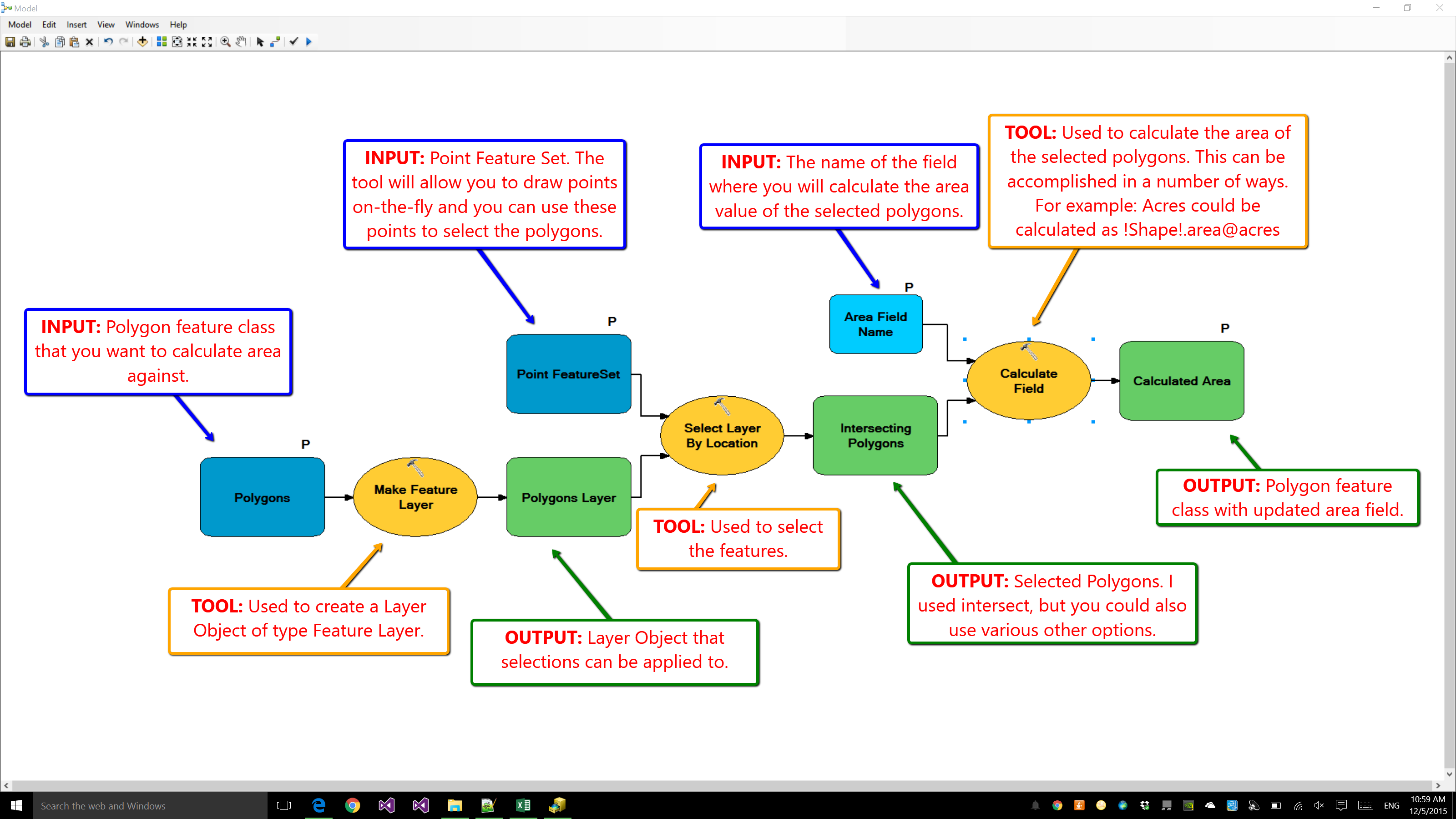 10 Replies