New Contributor II
Mark as New

Bookmark

Subscribe

Mute
Hi there,
I am using arcview 9.3.1 and I need to create oriented buffers from points in a shapefile. The euclidean direction method almost works, but because it calculates to the nearest point, buffers associated with points within the maximum will be truncated. I need each point to have a complete buffer in a specific direction, regardless of overlap with other points.
Any ideas would be greatly appreciated.
Thanks,
Dave
1 Solution

by
XanderBakker

Esri Esteemed Contributor
Mark as New

Bookmark

Subscribe

Mute
As promised...
The code below will create the circle sectors based on the point location and 3 additional columns:
one for the start angle
one for the end angle
and the distance (size)
The angles are expressed arithmetically: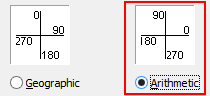 In your case you will want to use start = 180° and end = 225°
I used random points, with random angles and random sizes and this was the result: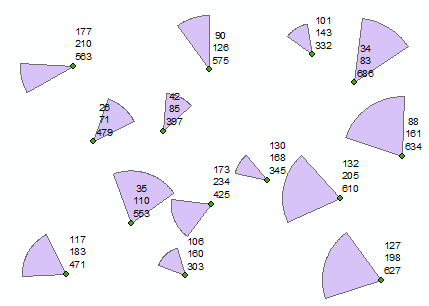 This is the code I used:
#-------------------------------------------------------------------------------
# Name:        createSectors.py
# Purpose:    create circle sectors for points
#
# Author:      Xander
#
# Created:    08-02-2015
#-------------------------------------------------------------------------------
import arcpy

def main():
    fc_in = r"C:\Forum\CircleSectors\data.gdb\points2"
    fc_out = r"C:\Forum\CircleSectors\data.gdb\sectors2"

    fld_start = "StartAngle"
    fld_end = "EndAngle"
    fld_dist = "Length"

    sr = arcpy.Describe(fc_in).spatialReference
    arcpy.env.overwriteOutput = True

    flds = ("SHAPE@", fld_start, fld_end, fld_dist)
    lst_polygons = []
    with arcpy.da.SearchCursor(fc_in, flds) as curs:
        for row in curs:
            pnt_g = row[0]
            start = row[1]
            end = row[2]
            length = row[3]
            circle = pnt_g.buffer(length)
            pnt = pnt_g.firstPoint
            arrPnts = arcpy.Array()
            arrPnts.add(pnt)
            for bearing in range(int(start), int(end) + 1):
                arrPnts.add(createPointAtAngleWithBearing(pnt, bearing, length))
            polygon = arcpy.Polygon(arrPnts, sr)
            lst_polygons.append(polygon)

    arcpy.CopyFeatures_management(lst_polygons, fc_out)

def createPointAtAngleWithBearing(pnt, angle, distance):
    import math
    angle = math.radians(angle)
    dist_x, dist_y = (distance * math.cos(angle), distance * math.sin(angle))
    return arcpy.Point(pnt.X + dist_x, pnt.Y + dist_y)

if __name__ == '__main__':
    main()
Kind regards, Xander
28 Replies