MVP Regular Contributor
Mark as New

Bookmark

Subscribe

Mute
Is there a fast way to order points clockwise? I only want the corner vertices. I would like the first point to be in the SW corner of the quarter section or at least in a consistent location....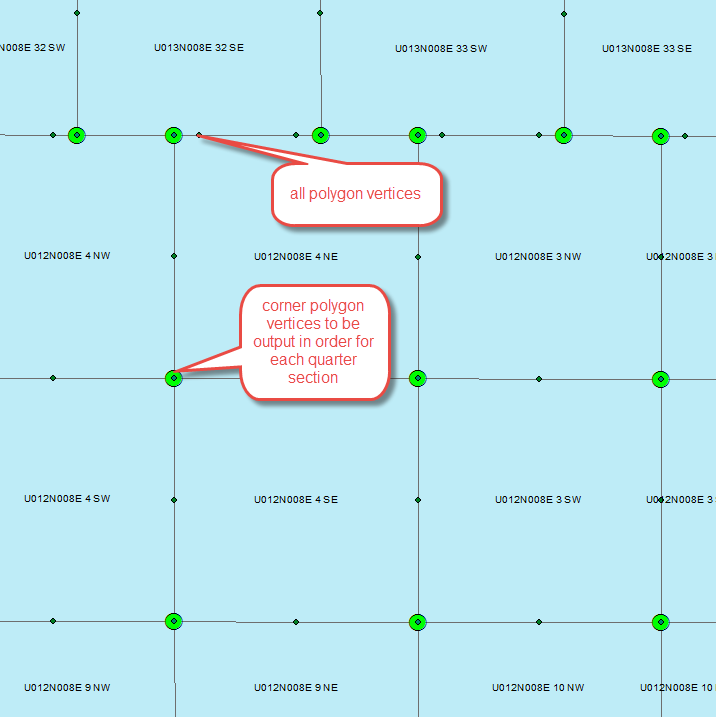 1 Solution

MVP Regular Contributor
Mark as New

Bookmark

Subscribe

Mute
Thanks everyone for the great feedback!
So, I went with this solution in the end. Only works for my quarter section special case. But maybe someone will find it useful.
import

 arcpy

points 

=

 r

"xxxx"


center 

=

 r

"xxxx"


csv_path 

=

 r

"xxxx"


dec_field 

=

 

"DESCRIPTION"



csv 

=

 open

(

csv_path

,

 

"w"

)



search 

=

 arcpy

.

SearchCursor

(

points

)


points_list 

=

 

[

]




for

 row 

in

 search

:


    points_list

.

append

(

(

row

.

getValue

(

dec_field

)

,

 row

.

getValue

(

"POINT_X"

)

,

 row

.

getValue

(

"POINT_Y"

)

)

)




del

 search

search 

=

 arcpy

.

SearchCursor

(

center

)


center_list 

=

 

[

]




for

 row 

in

 search

:


    center_list

.

append

(

(

row

.

getValue

(

dec_field

)

,

 row

.

getValue

(

"POINT_X"

)

,

 row

.

getValue

(

"POINT_Y"

)

)

)




del

 search

k 

=

 

0


order_list 

=

 

[

]


order_center 

=

 None


for

 dxy_p 

in

 points_list

:


    k 

+=

 

1


    order_list

.

append

(

dxy_p

)


    

if

 k 

==

 

4

:


        

# find center point


        

for

 dxy_c 

in

 center_list

:


            

if

 dxy_c

[

0

]

 

==

 order_list

[

0

]

[

0

]

:


                order_center 

=

 dxy_c
                

break


        

for

 dxy_o 

in

 order_list

:


            

if

 dxy_o

[

1

]

 

<

 order_center

[

1

]

 

and

 dxy_o

[

2

]

 

<

 order_center

[

2

]

:


                csv

.

write

(

dxy_o

[

0

]

 

+

 

", "

 

+

 str

(

dxy_o

[

1

]

)

 

+

 

", "

 

+

 str

(

dxy_o

[

2

]

)

 

+

 

", "

 

+

 

"1\n"

)


            

if

 dxy_o

[

1

]

 

<

 order_center

[

1

]

 

and

 dxy_o

[

2

]

 

>

 order_center

[

2

]

:


                csv

.

write

(

dxy_o

[

0

]

 

+

 

", "

 

+

 str

(

dxy_o

[

1

]

)

 

+

 

", "

 

+

 str

(

dxy_o

[

2

]

)

 

+

 

", "

 

+

 

"2\n"

)


            

if

 dxy_o

[

1

]

 

>

 order_center

[

1

]

 

and

 dxy_o

[

2

]

 

>

 order_center

[

2

]

:


                csv

.

write

(

dxy_o

[

0

]

 

+

 

", "

 

+

 str

(

dxy_o

[

1

]

)

 

+

 

", "

 

+

 str

(

dxy_o

[

2

]

)

 

+

 

", "

 

+

 

"3\n"

)


            

if

 dxy_o

[

1

]

 

>

 order_center

[

1

]

 

and

 dxy_o

[

2

]

 

<

 order_center

[

2

]

:


                csv

.

write

(

dxy_o

[

0

]

 

+

 

", "

 

+

 str

(

dxy_o

[

1

]

)

 

+

 

", "

 

+

 str

(

dxy_o

[

2

]

)

 

+

 

", "

 

+

 

"4\n"

)


        k 

=

 

0


        order_list 

=

 

[

]


        dxy_c 

=

 None

csv

.

close

(

)

‍

‍

‍

‍

‍

‍

‍

‍

‍

‍

‍

‍

‍

‍

‍

‍

‍

‍

‍

‍

‍

‍

‍

‍

‍

‍

‍

‍

‍

‍

‍

‍

‍

‍

‍

‍

‍

‍

‍

‍

‍

‍

‍

‍

‍

‍

‍
8 Replies