New Contributor III
Mark as New

Bookmark

Subscribe

Mute
I created a model that runs fine when I tell it to. I set it up to automatically run nightly via the scheduler feature in ArcPro. It fails every time and doesn't provide any errors or info.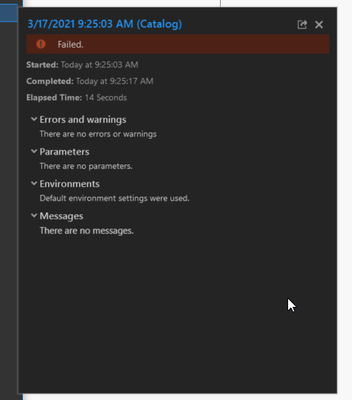 I have successfully used the scheduler to run a geoprocessing tool nightly for quite some time.
Anybody have a similar experience? The model that is failing to run via the scheduler starts out with a script. Could this be part of the problem?
I'm using Pro 2.6.3
Thanks,
John
2 Replies

by
jcarlson

MVP Esteemed Contributor
Mark as New

Bookmark

Subscribe

Mute
It will be very hard to say without seeing at least part of the script / model, but I think it's safe to say there's something in how you've written your script that isn't being handled properly in the standalone script.
What that might be can vary quite a bit. Please share your code if you can.
Barring that, I'd add some messages to your script so that you can get a better sense of where and perhaps why it's failing.
- Josh Carlson
Kendall County GIS

New Contributor III
Mark as New

Bookmark

Subscribe

Mute
The model is pretty basic

Here is the code from the script tool
from 

urllib.request 

import 

urlopen


from 

zipfile 

import 

ZipFile

# Path to Oil Gas Locations - Conventional
zipurl = "https://opendata.arcgis.com/datasets/5e27625cb6df4d068de935958ad2f3f6_54.zip?outSR=%7B%22latestWkid%22%3A3857%2C%22wkid%22%3A102100%7D"

# Download the file from the URL
zipresp = urlopen(zipurl)

# Create a new file on the hard drive
tempzip = 

open

(

r"G:\jbrand\ArcPro Projects\Current Operator Cleanup\PADEP_Master_Wells\Oil_Gas_Locations_-_Conventional.zip"

, 

"wb"

)

# Write the contents of the downloaded file into the new file
tempzip.write(zipresp.read())

# Close the newly-created file
tempzip.close()

# Re-open the newly-created file with ZipFile()
zf = ZipFile(

r"G:\jbrand\ArcPro Projects\Current Operator Cleanup\PADEP_Master_Wells\Oil_Gas_Locations_-_Conventional.zip"

)

# Extract its contents into <extraction_path>
# note that extractall will automatically create the path
zf.extractall(

path

=

r"G:\jbrand\ArcPro Projects\Current Operator Cleanup\PADEP_Master_Wells"

)

# close the ZipFile instance
zf.close()