New Contributor III
Mark as New

Bookmark

Subscribe

Mute
I have an irregular polygon feature that I need to split into x number of equal area features. I need to be able to have the divisions be something other than north/south or east/west.
Example:
The black polygon in this case needs to be divided into 3 equal area polygons. I manually split these, but I need it to be more precise and the splits need to be aligned in parallel to each other. They need to be able to be calculated with an angle/rotation specification, and not just north/south or east/west.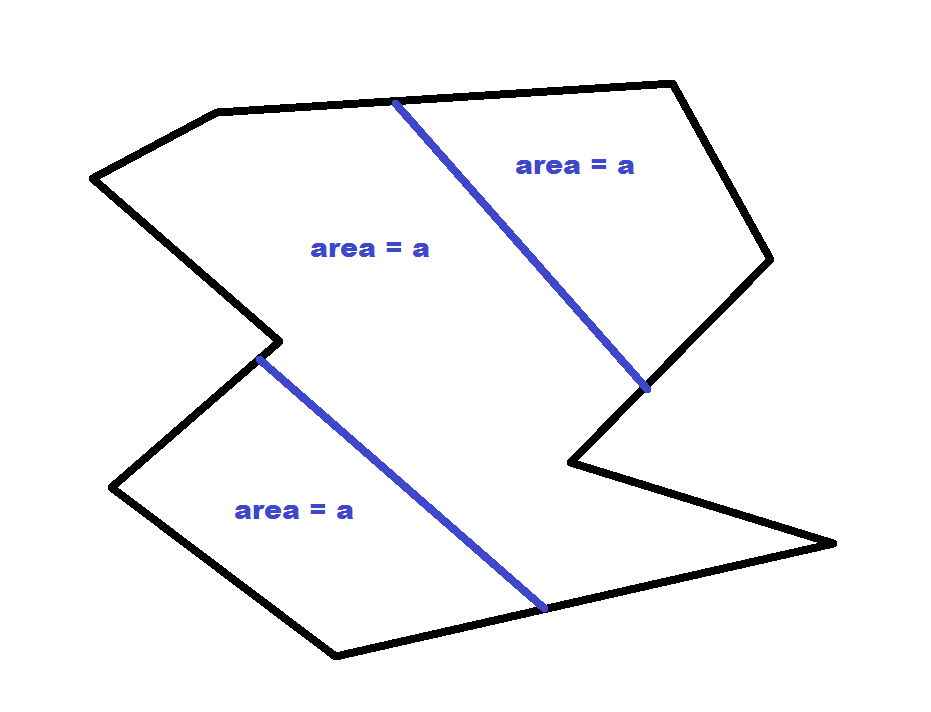 What I have tried:
It really blows my mind that this isn't a tool that exists/is readily available.
Any advice/suggestions is welcomed. Or, if you really want to be a super hero, edit the code so I can specify an angle for rotation. Thank you very much!
1 Solution

MVP Legendary Contributor
Mark as New

Bookmark

Subscribe

Mute
for the hero that wants to take it on, it is far easier to rotate polygon by the desired rotation angle, proceed with Alex's implementation, then rotate result back.
This will work with projected coordinates. Take the polygon, subtract the centroid value from the polygon points (ie a translation to the origin). Rotate by your desired angle (rotation). Do the work (rotate the reverse) and translate back to the original location.
7 Replies