MVP Regular Contributor
Mark as New

Bookmark

Subscribe

Mute
Hello,
I'm wondering how to combine points that are within a small distance from each other, but are from the same feature class. The points represent signs on a road. When the feature was originally created an additional point was created if the sign had something on the back-- so, two points for the same sign. But, the tricky thing is each point was given a unique number.
My question is how can I bring these points together and at the same time preserve the attributes?
In ArcGIS Pro, I've tried arcpy.MergeLayers_geoanalytics, but that doesn't seem to work because it requires two layers. I've also tried arcpy.Integrate_management, but this treats the points within a specified distance as vertices, and sort of pulls them on top of each other.
In this screen shot is an example of two signs with a point for the front of the signs and a point of the backs. I'm looking to combine these somehow?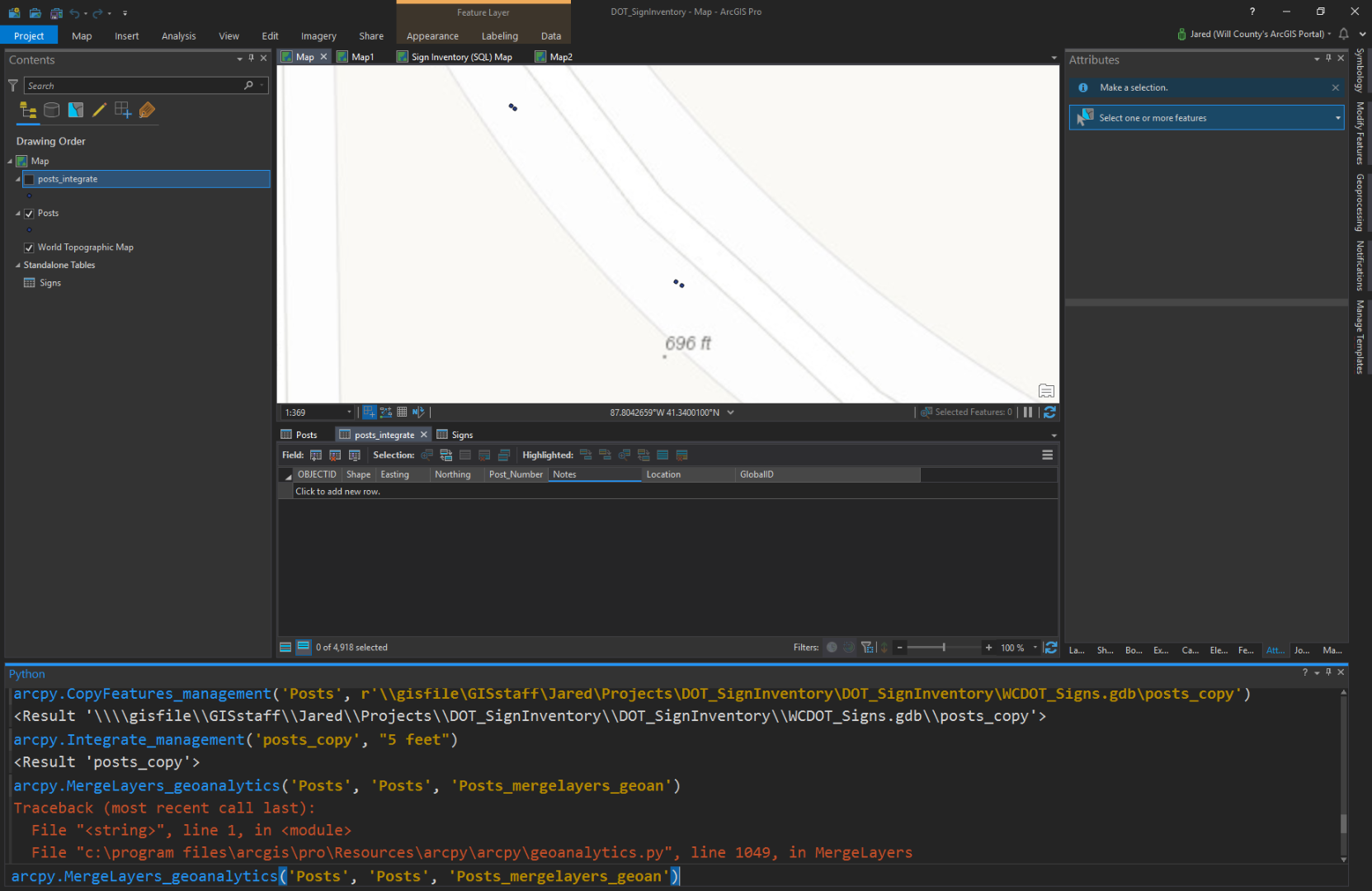 1 Solution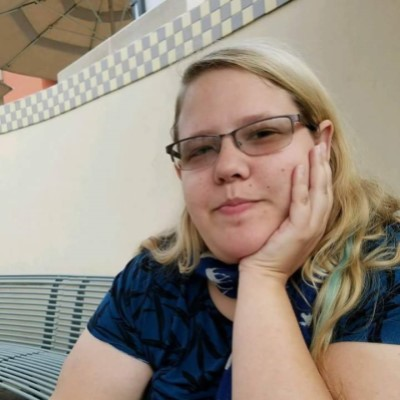 by
rachelg_esri

Esri Contributor
Mark as New

Bookmark

Subscribe

Mute
Hello Jared!
I did some testing in ArcGIS Pro, and I think the Spatial Join tool should work for you. This workflow does involve first separating the data, and my workflow assumes the Post_Number field is string. (If it isn't, you can make a new field of type Text and calculate it as equal to your old Post_Number field for a temporary solution.) Here's what I did: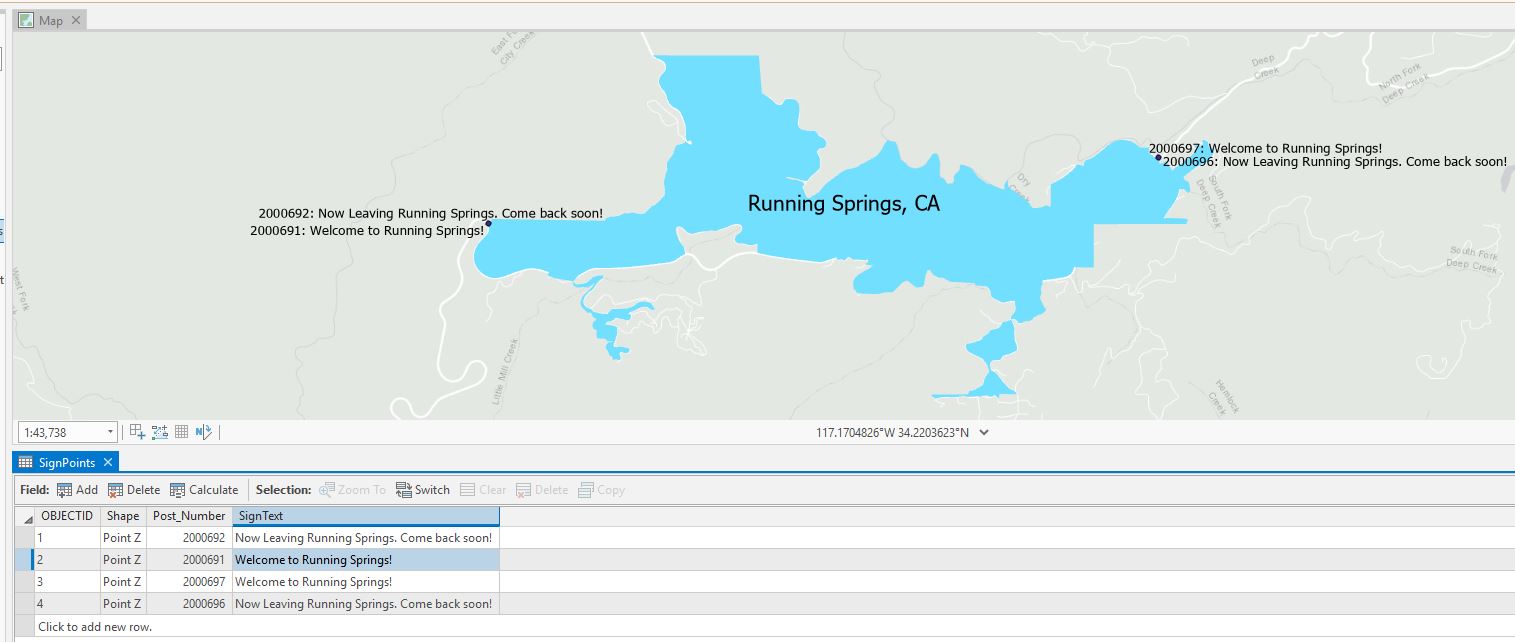 I started with 4 points in a dataset representing two different sign posts with two sides each. I made sure to match your "ending in 1/6 or 2/7" scenario on the Post_Number column.
First I used Select by Attributes using a SQL expression (there's a toggle button on the Select by Attributes expression builder page to turn on SQL). Note that this only works on text fields the way I did it. My expression was:
Post_Number LIKE '%1' OR Post_Number LIKE '%6'
I then exported the selection to a "FrontSide" feature class. Then I switched the selection using the "Switch" button on the table pane and exported the new selection to a new "BackSide" feature class.
Now I have 2 feature classes -- one that represents the signs' front side and one that represents the signs' back side.
I then used the Spatial Join tool: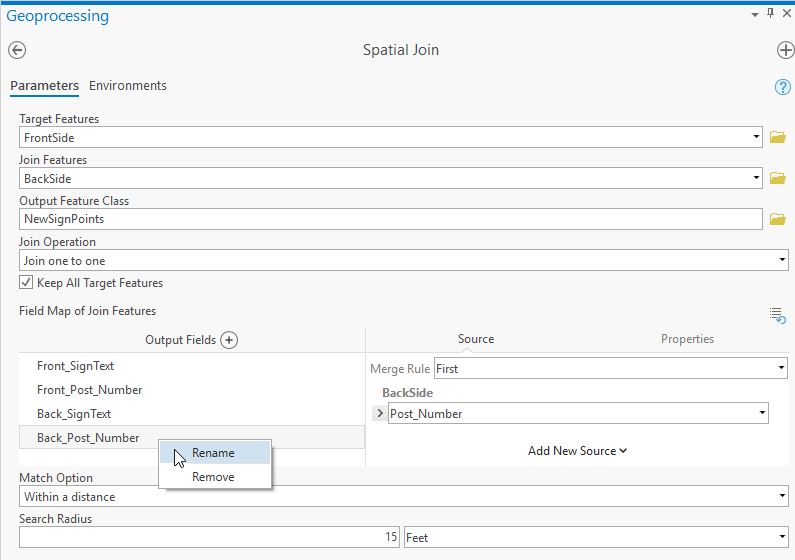 I used the parameters:
Target: FrontSide
Join: BackSide
Output: NewSignPoints
Join: Operation: Join one to one
Field Map of Join Features: Rename fields based on front or back
Match Option: Within a Distance
Search Radius: The furthest distance between two points of the same sign (ex. 15 feet for mine -- I didn't zoom in much when I made the points. Your distance may be much smaller. You can use the measure tool to check this.)
I then got an output that looked like this, with one row for each sign post and 4 columns -- two that represented the Post Numbers and two that represented the text of the sign:

Here's some more information about the Spatial Join tool: Spatial Join—Help | ArcGIS Desktop
Let me know if that answers your question?
Best regards,
Rachel
Esri Support Services
Rachel Guttmacher
ArcGIS Online Technology Lead
Esri Support Services
6 Replies