Occasional Contributor
Mark as New

Bookmark

Subscribe

Mute
Hi,
We recently migrated our Oracle geodatabase from AIX to Oracle Linux platform. The geodatabase version is 10.4.1. We're using SDO_Geometry as our spatial type. While doing our database checks, we encountered an error while doing a reconcile/post.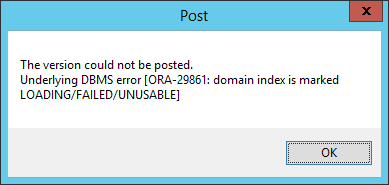 As per our versioning framework, we have SDE.Default as the top version in hierarchy. Below that, we have 3 user schema versions - Schema1.ADMIN, Schema2.Admin, Schema3.Admin , all of them are children of SDE.Default.
Now under each schema admin version we have further children which are the user versions. So for example, we have a version Schema1.User1 which is child of Schema1.ADMIN, which in turn is child of SDE.Default.
Now in the migrated database, we did some edits in Schema1.User1 version, which were successfully reconciled and posted to Schema1.ADMIN. The error has come when we do reconcile and post from Schema1.ADMIN to SDE.Default. Here reconcile still works, it is in the post that we get this error.
The ESRI article in the link given below is applicable for ArcSDE 9.2-9.3.1 and for ST_Geometry. In our case we do not have ArcSDE, we have ESRI Geodatabase 10.4.1 and enabled SDO_Geometry.
Error: ORA-29861: domain index is marked LOADING/FAILED/UNUSABLE
What could be the cause of this? Is it related to tablespace or something else?
Regards,
Apurv
4 Replies