New Contributor III
Mark as New

Bookmark

Subscribe

Mute
Hi all,
I am using 10.0. I recently started having problem to edit files that are in the SDE database. I am not sure what happened, I was building a cached map to be used in Lucity dashboard for my stormwater field crew. A few days later when I try to edit any of the files in the SDE database I get an error message which I don't believe this error message has anything to do with what I was doing as far creating the cached map. Please see attached file. I have checked all different avenue to see how I can fix the problem I ended up with a negative result. We are not using Version now, but the error message suggests that the files I am trying to edit are Resgister As Versioned that have to be Unregister As Versioned before I can edit the files. I have unchecked the box that is under Editor, Option, and General, but nothing happened. Remember, I have the owner privilege access in the SDE database. Any idea on how to fix this problem?
Best regard,
Rudy
1 Solution

New Contributor III
Mark as New

Bookmark

Subscribe

Mute
I am using ArcInfo. But I think I figured it out this past Friday. What I did was from ArcCatalog, showing below, I dragged "Unregister As Versioned" into ArcCatalog when finished I right clicked on the Feature Dataset that I want to Unregister As Versioned. Then I click the "Plus sign " to the left of the Feature Dataset and then left click the Feature Dataset to un-greyed the "Unregister As Versioned" tool. In addition, I right click on the Feature Dataset and click the Unregister As Versioned tool and click "OK" to run the tool and "voila" . It is all done in ArcCatalog.
Thank you very much for all your help on this matter.
Best regards,
Rudy Charlot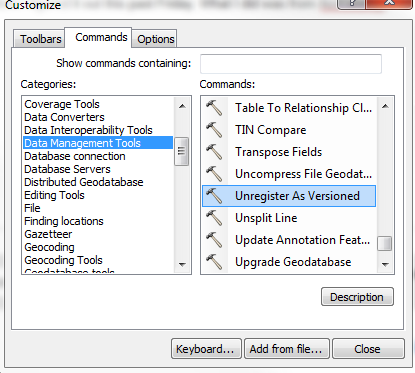 4 Replies