by
TomDeWitte

Esri Contributor
Mark as New

Mark as Read

Bookmark

Subscribe

Email to a Friend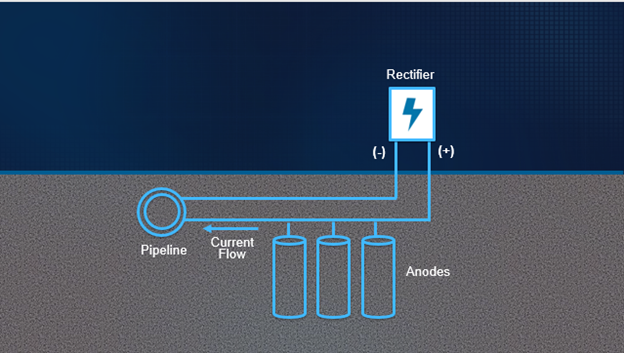 By Tom Coolidge and Tom DeWitte
We were struck recently in reading NACE International's estimate of the money spent each year on corrosion-related costs for monitoring, replacing, and maintaining U.S. metallic pipe networks. The estimated annual tab is $7 billion for gathering and transmission pipelines and another $5 billion for gas distribution pipelines. That's $12 billion each year!
Metallic pipe has been around for a long time. It has been used by the gas utility and pipeline industries since the 1800s when cast iron pipe first replaced wooden pipe. Advances in metallurgy through the years have steadily resulted in different types and better quality of metal for pipe networks. Today there is a lot of metallic pipe of one kind or the other in the ground. In fact, even after much cast iron and other metallic distribution pipe have been replaced by plastic pipe, there remains today several hundred thousand miles of in-service metallic pipe in America's gas and hazardous liquids transmission and distribution networks. Much of it is old, and all of it is subject to corrosion.
Most people understand that if you put iron or steel in contact with moisture and oxygen, the metal will begin to rust or corrode. What most people do not understand is that this basic electro-chemical process can be slowed or even halted.
Gas utilities and pipelines understand that, though. That's why today they dedicate considerable human and financial resources to the cause of cathodic protection. They do it because they are committed to safe operations, and they do it for regulatory compliance as cathodic protection has been required for much of America's pipe networks since 1971.
This is the first blog of a series that explores how ArcGIS provides capabilities for the management of cathodic protection networks.
Protecting the Pipe from Corrosion
There are several methods to protect metallic pipe buried in the ground. One method is to apply a coating to the pipe to form a barrier between the metal pipe and the corrosion-causing mixture of water and air.

Coated Metallic Pipe
This is very common for natural gas and hazardous liquid carrying pipelines. But it is not perfect, as a single scratch through the coating layer diminishes the protection. A second method is to manipulate the same electro-chemical process which causes corrosion to instead protect the pipe from corrosion. This method is called cathodic protection. Two common forms of cathodic protection are galvanically-protected and impressed-current protection.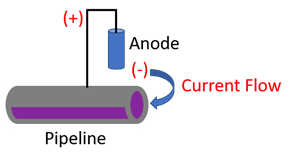 Galvanically Protected
We Need a Sacrifice
A galvanically-protected cathodic protection system is also called a passive-cathodic protection system. It is passive in that no foreign electrical energy is needed. Galvanic protection works by connecting a more electrochemically active metal into the system than the pipe system which is being protected. This electrochemically active metal is simply a hunk of metal buried in the ground near the pipe system. This component is called an anode. Common materials for anodes are zinc and magnesium. In a galvanic protection system, the anode gives up electrons to the pipe system. This sacrifice of electrons results in the anode corroding instead of the pipe system.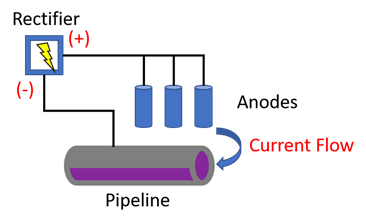 Impressed Current Cathodic Protection
Charge It
Impressed-current cathodic protection systems are typically used to protect large pipe systems such as transmission pipelines. The rectifier inserts direct current (DC) voltage into the cathodic protection system. A rectifier cable connects the rectifier's positive terminal to the anodes within the anode bed. A second rectifier cable connects the rectifier's negative terminal to the pipe system.
The Electric Circuit
The foundational concept to keep in mind when trying to understand cathodic protection is that the components of a cathodic protection system are connected to form an electric circuit. If the circuit is broken, then the metallic pipe system components will lose their protection and the rate of corrosion will accelerate. If not corrected, the pipe system components will weaken and eventually fail.
Soil Is A Conductor
With cathodic protection, it is important to remember that the soil between the anode and the metallic pipe acts as a conductor. The soil as a conductor of electricity completes the electric circuit connecting the anode to the metallic pipe.
Material Type Matters
The material of the pipe system components is critical to a cathodic protection system. Some materials such as polyethylene (Plastic PE) are non-conducting and act as insulators. These insulating materials break the electric circuit.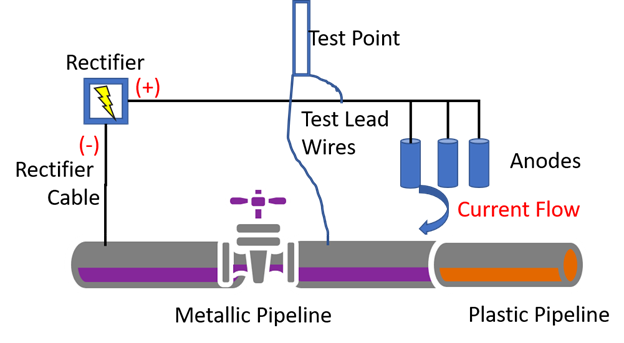 Cathodic Protection System With Insulating Plastic Pipe
In addition to plastic pipes and plastic components acting as insulators and breaking the electric circuit, metallic components can be manufactured so that they, too, can be insulating devices or junctions.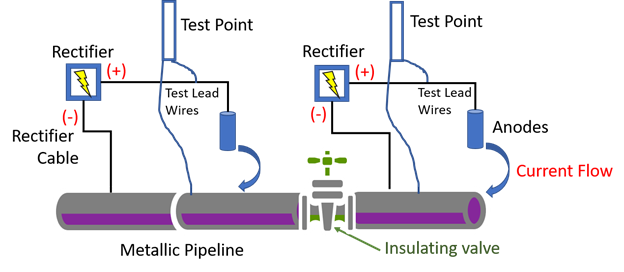 Cathodic Protection Systems Separated By An Insulating Valve
Managing Cathodic Protection Data with UPDM
Management of the cathodic protection components in a Geodatabase is not difficult. The anodes, rectifiers, and test points are typically modeled as point features. The test lead wires; bonding lines, and rectifier cables are modeled as line features. Utility and Pipeline Data Model (UPDM) 2019 provides a template data model for managing these cathodic protection components.
Where data management of the cathodic protection systems gets challenging is the defining and maintaining of the cathodic protection zone. The cathodic protection zone is the combination of pipeline, pipe devices, pipe junctions, cathodic protection devices, and cathodic protection lines, which together form an electric circuit.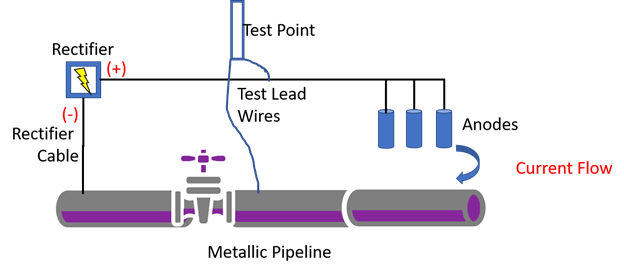 Cathodic Protection System
Conclusion
Data management and analysis of cathodic protection systems was a challenge in legacy geospatial systems. Entering the information has always been a straight forward process. Maintaining an intelligent representation of the cathodic protection system has historically been the challenge.
With the utility network combined with the UPDM 2019 configuration, maintaining and analyzing a cathodic protection system is now an intuitive process.
About This Blog Series
This blog article is the first of a three-part series explaining how the Esri ArcGIS platform with the Utility Network Management Extension and the Utility and Pipeline Data Model (UPDM) can be utilized to manage a digital representation of a cathodic protection system. It is intended to provide GIS professionals and IT administrators with enough knowledge of how a cathodic protection system works to be able to correctly configure and deploy UPDM and the utility network.
The second blog article will go into detail on the configuration of UPDM to manage the components which makes up the cathodic protection system.
The third blog article will explain how the utility network uses its capabilities to model the cathodic protection system.
PLEASE NOTE: The postings on this site are our own and don't necessarily represent Esri's position, strategies, or opinions.
1 Comment
You must be a registered user to add a comment. If you've already registered, sign in. Otherwise, register and sign in.