by
TomDeWitte

Esri Regular Contributor
Mark as New

Mark as Read

Bookmark

Subscribe
Part 1 of 4
By Tom DeWitte and Tom Coolidge
The reality is until recently as-built data capture capabilities didn't really meet the modern workflow needs of high-performing gas utilities. Then came breakthrough technological improvements. And, with them, a benefits trifecta for gas utilities that take advantage of them – higher quality, improved business processes, and lower cost.
The technological breakthroughs we are referring to are low cost - high accuracy GPS antennas, mobile computing devices, and a new generation of mobile data collection applications. Each of these technological breakthroughs incrementally has improved the speed, accuracy, and process streamlining of capturing new gas pipe construction. But, it is the recent advances and the ease with which these technologies can be combined that is the paradigm shift which is just beginning to reshape how gas pipe construction information is gathered, populated, and managed.
So, what is the magic sauce which is providing this leap in cost efficiency, data quality, and business process for capturing new construction information?
The answer is ArcGIS Field Maps.
A Brief History of As-Built Documentation
For over one hundred years gas pipe organizations have used paper to document the construction of the gas pipe system. For most in the industry, this collection of information is referred to as the "construction packet." This was a very literal description of the collection of documents which are gathered, populated, redlined, and then stuffed into a large envelope for sharing with the many departments which need to process its contents.

Vermont Gas example of hand drawing
At the beginning of this millennium, the industry began incorporating digital technologies to this historically paper process.
For many in the industry, the 1st generation of solutions was focused on replacing the redlined paper construction drawings with a digital sketch over a digital representation of the construction drawing.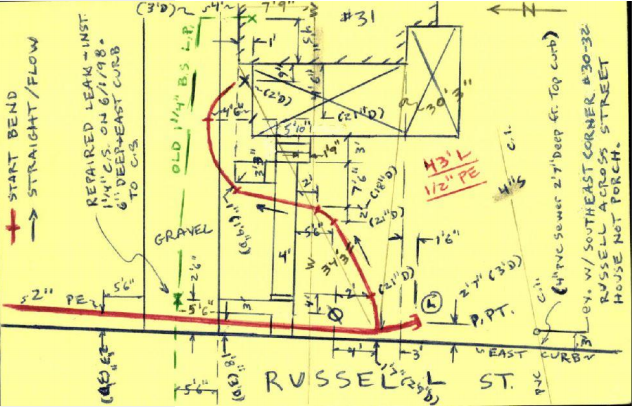 Vermont Gas example of redline sketch
The 2nd generation of solutions incorporated high accuracy GPS units and barcode scanners to more accurately document the new construction. This was a major improvement over 1st generation solutions. But, it was almost exclusively focused on documenting the newly installed assets. This left the rest of the construction packet in a paper format - a paper format that someone in the office would have to read, interpret, and enter into digital data management systems.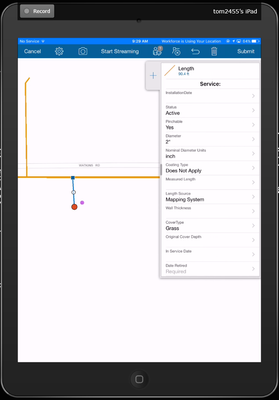 Collector documenting a new service
The 3rd generation of solutions provides easily configurable maps, forms, and business rules, which in addition to digitally capturing the newly installed assets, also provide the capability to capture the rest of the documentation, such as pressure tests, exposed pipe inspections, and as-built checklists. This digital transformation of the construction packet is what is today referred to as Digital Field As-builting.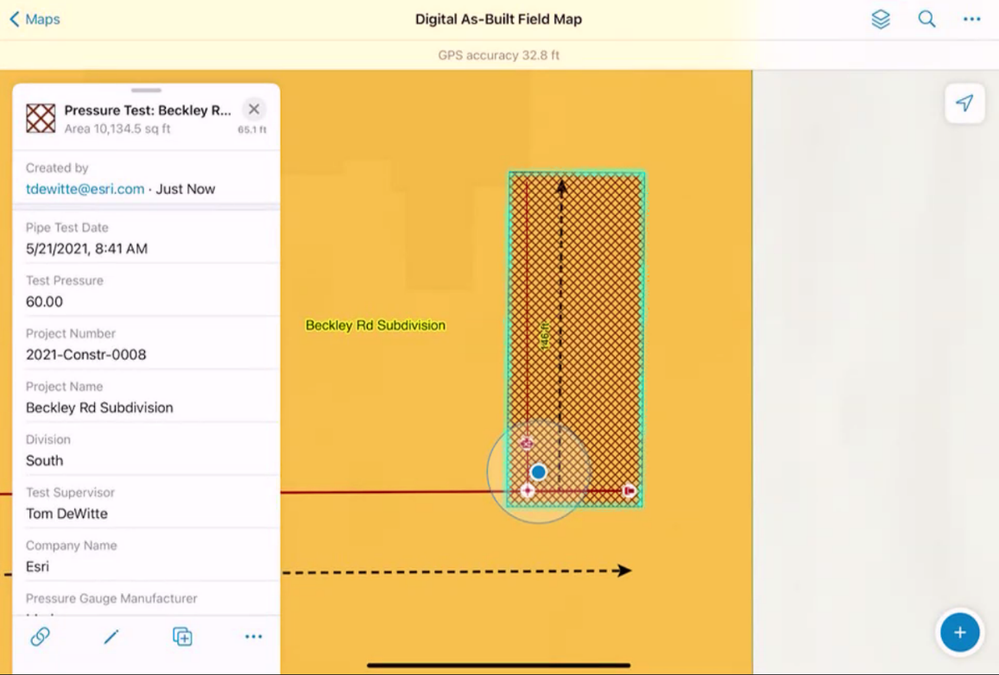 ArcGIS Field Maps Documenting a Pressure Test
As more gas organizations digitally transform their processes for documenting new construction, it is clear that this transformation is critical to cost-effectively maintaining a safe and reliable gas pipe network.
So, what is it about Digital Field As-Builting that is so transformative as to positively impact a gas organization's ability to maintain a safe and reliable gas pipe network? There are so many improvements provided by digital field as-builting that they need to be grouped into three categories: higher quality, improved business process, lower cost.
Higher Quality
Implementing a Digital Field As-builting solution for documenting new pipe construction addresses many of the industry issues associated with incomplete and inaccurate data. Whether that be incorrect locating due to poor mapping or incorrect main replacement prioritization analysis due to incomplete data, the root cause is the same, poor data quality.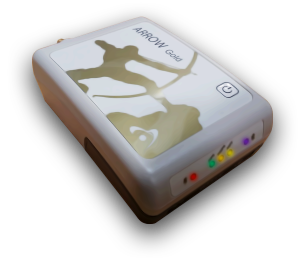 EOS Arrow Gold GPS Receiver
The incorporation of high-accuracy GPS antennas solves the spatial location accuracy portion of the data quality issue. Today's GPS antennas provide sub-foot location accuracy. These devices connect to multiple satellite positioning systems (U.S., European, Russian, Chinese) to increase the number of satellites in view for triangulation of position. Simultaneously they connect to base stations which are providing real-time kinematic (RTK) location correction. Once the sub-foot location is determined, the GPS antenna uses Bluetooth communication to stream the coordinate location data directly to ArcGIS Field Maps running on a mobile device such as a tablet or phone. In ArcGIS Field Maps, this information is stored as native ArcGIS features. These field collected ArcGIS features eliminate the traditional need for office staff to interpret and manually redraw the field documented new construction.
Today's mobile tablets and phones contain high definition cameras. When coupled with the ArcGIS Field Maps mobile application, these mobile device cameras can be used to capture the ASTM F2897 barcodes on the plastic components. ArcGIS Field Maps decodes the barcode and automatically writes the barcode encoded information into the appropriate data fields. This example of ArcGIS Field Maps automation consistently and accurately captures the nominal diameter, wall thickness, material, manufacturer, and manufacture date information which is critical to integrity analysis and main replacement prioritization analysis.
Improvements in quality of the data captured extends to the other types of construction documentation such as pressure tests. For pressure tests, a common problem is accurately documenting which pressure test covered which asset. The ArcGIS Field Maps ability for automation allows the inspector to simply draw a polygon encompassing the portion of the new pipe system pressure tested, the software then automatically assigns a pressure test ID to the components contained within the pressure test polygon.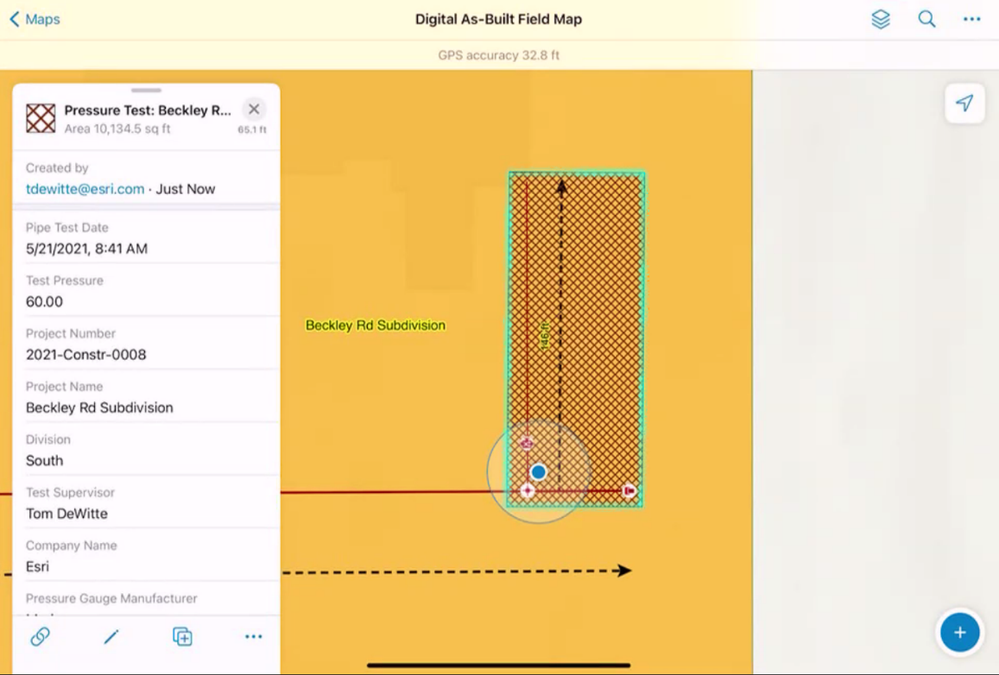 ArcGIS Field Maps
Improved Business Processes
The legacy industry processes for using paper to document the new construction are fraught with duplication. For example, an exposed pipe inspection paper form is handwritten by the field technician. A person in the office must interpret the handwritten information and then enter this same information into a geospatial digital data management system, such as ArcGIS. Once in ArcGIS, integrity analysis programs can use this information as part of their Transmission Integrity and Distribution Integrity programs.
Using ArcGIS Field Maps to enable the field technician to digitally document the exposed pipe inspection eliminates the office duplicate data entry as Field Maps data is directly written to the ArcGIS Enterprise Geodatabase.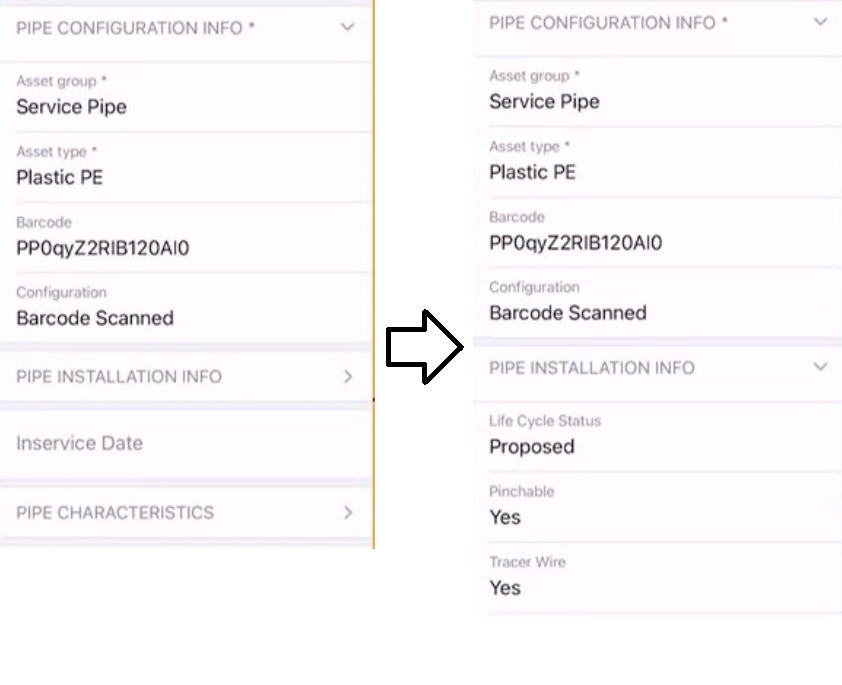 ArcGIS Field Maps Smart Form example
Using ArcGIS Field Maps for collecting form centric information such as a pressure test or as-built checklist reduces the time it takes to collect the new construction data. Its smart form capabilities simplify often complex and cluttered forms. The implementation of business rules automates data entry and reduces the amount of information entered by the field technician.
All these process improvements lead to a significantly reduced time lapse from when construction is completed to when the digital data is posted for use by the entire organization. For example, Spire Energy out of St Louis, MO has reduced their time from construction to posting to an impressive average of 8 days. Most gas organizations using a paper-based process struggle to complete this process in less than 3 months.
Lower Costs
Time is money and deployed construction crews are expensive. This has been true since the beginning of gas pipe system construction. This current generation solution stack for documenting new construction looks to be more expensive. Afterall the original equipment used 100 years ago was paper, a red color pencil, and a tape measure. The current generation equipment list includes a high-accuracy GPS antenna, mobile device, and ArcGIS Field Maps software. How can it have a lower cost?
The current generation digital field as-builting is cheaper, because of its significant improvement in reducing the time required to collect this information. It improves the business process and eliminates many of the data entry duplications that have been built into the legacy processes. And let's not forget that every incident avoided by the availability of improved data quality protects the safety of people and property, and saves the gas utility money – potentially large amounts of money!
The Secret Sauce – Configuration and Automation
Deploying a Digital field As-built solution is not as easy as shopping on Amazon and ordering a few items. It requires knowledge in GPS, mobile devices, software, and most importantly how to configure them to work together. All of this is done through configuration. The secret sauce for a successful deployment is knowing how to perform these configurations.
This blog article is the first of a series of four blogs articles explaining how to deploy ArcGIS Field Maps for Digital Field As-builting. Upcoming blogs will divulge specific examples of the secret sauce of configuration and automation to lower costs, streamline the process and improve the data quality of construction collected data.
PLEASE NOTE: The postings on this site are our own and don't necessarily represent Esri's position, strategies, or opinions.
You must be a registered user to add a comment. If you've already registered, sign in. Otherwise, register and sign in.