MVP Regular Contributor
Mark as New

Bookmark

Subscribe

Mute

Email to a Friend
We are using tpk files as basemaps for a Android application. Which works great. But they take a very long time to generate. The last one was around 8 or 10 days as I recall. I have one building now. It is on day 7 and at around 2.2GB. I would guess that in the end it is going to be over 5GB someplace. So, my question is how can we speed this up. Is it depended on cpu speed? Would getting a more powerful machine help? The source data is in a gdb on the machine's local drive and the output location is also on the local drive.
Right now I have it running on a Lenovo ThinkPad with:
Intel i7-4800MQ @ 2.70GHz
16GB RAM
NVIDIA Quadro K2100M
ArcGIS 10.2
Looking at task manager it does not look like I am using much of the machine's resources...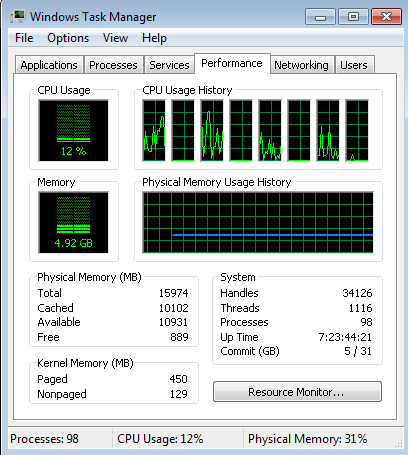 1 Solution

New Contributor III
Mark as New

Bookmark

Subscribe

Mute

Email to a Friend
I have to do something very similar for a Android application every month...except I have to create several dozen very large TPK files. It started to become unmanageable time wise.
What I ended up do is creating a straight up ArcGIS Server Map cache for the area that I need the TPK for. This way, you can crank it up to use every last bit of CPU you have available (I never could get the Parallel Processing Factor var to work right in py). Then use the Export Map Server Cache tool to dump it out to a TPK.
Scripted all out, this ended up being on the magnitude of 50x faster than just creating a TPK file the normal way. Of course the caveat is that you need a ArcGIS Server available. But, all you would need is a EDN level license to do it. Hope that helps.
9 Replies