Frequent Contributor
Mark as New

Bookmark

Subscribe

Mute
Hello,
Last Monday I had to make a lot of backup for my work and Windows 7 files such as my username and so on to my external hard drive .
So when my computer was being to migration from Windows 7 to Windows 10. I had to re-install a lot of ArcGIS 10, Trimble Pathfinder Office, ERDAS 2016 softwares and many more...back to my C drive .....
My simple question for you is that when I re-install my ArcGIS 10.3.1 to my computer and launch ArcMap,, the only thing that came my mind was "How do I restore my existing maps or mxd files" that I had before Windows 10.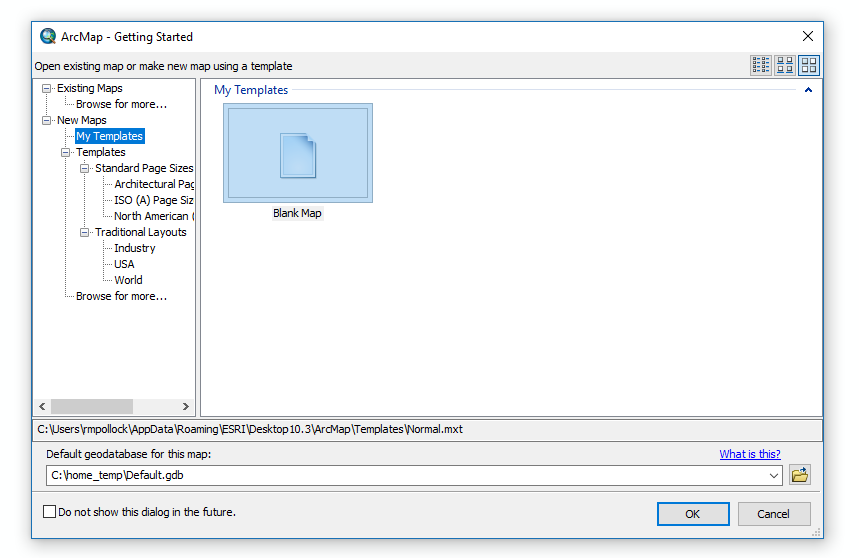 I tried to copy my normal.mxt from the backup to where it should be in the users' temeplates .
It did not show up...I was wonder if it is possible for me to restore them ?
Thanks for you feedback
3 Replies

MVP Legendary Contributor
Mark as New

Bookmark

Subscribe

Mute
was there anything else that you copied over other than that normal.mxt... which appears to be empty. Are you sure that was the correct installation path to copy from?
Search your backup drive for other templates under other usernames, perhaps there is something useful there. At least in the future you can copy and save anything important to a cloud or removable drive.

Frequent Contributor
Mark as New

Bookmark

Subscribe

Mute
Yes I did copy them to my Seagate Expansion Drive which is an external hard drive from the C Drive...what I did was to copy my user name from there to the external hard drive.
I copied the normal.mxt from this to the Windows 10 in the users folder...
Didn't work..
I also looked at the folder inside the Users and found that when I installed ArcGIS 10.3.1 I can see that
C:\Users\rmpollock\AppData\Roaming\Esri ... <-------- See the word Esri had mixed Upper Capital E and sri small letters.
So I went back to the External hard drive and check it again and found this:
E:\rmpollock\AppData\Roaming\ESRI <------see the word ESRI is all Upper Capitals ...
I deleted it and copied it again and still not work..... so maybe it got corrupt from the first time .... Don't know...

MVP Legendary Contributor
Mark as New

Bookmark

Subscribe

Mute
Sometimes it is a good thing to backup to a 'cloud-base' location on occasion, Our organization uses One-Drive so that what we need is available from anywhere we plug in. I know that isn't possible with some organizations, but if it is, it is useful.