New Contributor
Mark as New

Bookmark

Subscribe

Mute
I have been stuck with this problem for well over 2 days, I think it's time to shout for help!, Attached data for reference. The other feature does't visually look like a self closing loop, but it is. The raw data has two features with same ID overlapping each other, which could cause a self closing loop.
What I'm trying to do:
We are looking at migrating to Roads and Highways to manage our Linear road data. We have well defined calibration points for few important roads but no calibration points for local roads. I'm trying to auto create calibration points using Generate Calibration Points tool. It worked fine for a small dataset. When I tried to run it on a larger dataset ArcGIS Pro crashed on me.
I could potentially replace this tool by creating end points and adding length of the feature as calibration points, but apparently this tool handle Loops and Lollipops
Investigation So Far:
I dug deeper and isolated two offending features which were causing ArcGIS Pro to crash. I deleted these two features and ran the tool again it worked fine. When I ran it for 2 isolated features ArcGIS Pro crashed again. Both these features have one thing in common, they are multi-part feature and one of the part is a self closing loop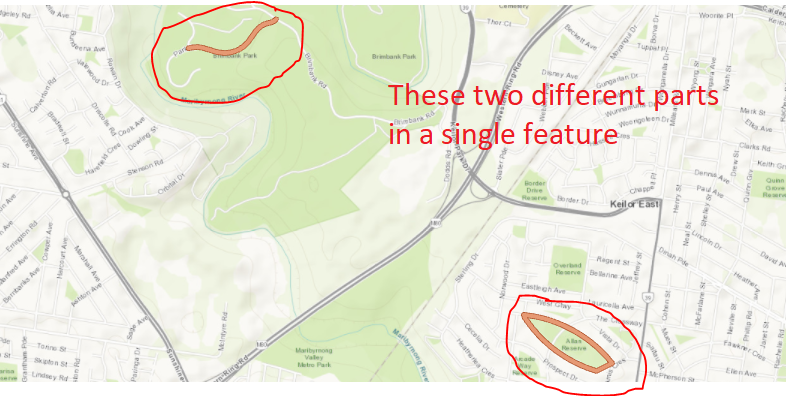 What I want:
These two features are part of a feature class of well over a million roads. I want to be able to identify these features using python or a GP tool, we can't do this manually. The raw data comes from a third party and we can't control the data quality. Or, somehow make this work with ArcGIS Pro. I have tested in both v 2.3.3 and 2.4.3, same behavior.
What I can't do:
I can't convert this to single part features, mainly to do with some business rules down stream, this would be my last ditch option, I know it'll work if I make it single part feature. I'm trying to avoid it.
I can't manually identify the feature, delete it and run the tool again. This is a small component of a bigger ETL pipeline, I want the process fully automated.
Hopefully ESRI will fix this bug in ArcGIS Pro, until then I would appreciate some suggestions on how to tackle this.
Thanks!!
7 Replies