Occasional Contributor III
Mark as New

Bookmark

Subscribe

Mute
Hello,
I'm in the process of testing geodatabase replication to support our ArcGIS Server team. I've successfully made one-way parent to child replicas using the Distributed Geodatabase toolbar in ArcMap. The parent database (XD02) contains versioned data with Global IDs. The child database (XD01) contains the same data and is also verisioned and contains Global IDs. Using ArcMap I'm able to select the "Register existing data" radio button but that option is not obvious to me when I use the tool. I've attached a screenshot of the tool dialog. When I run the tool I only get ERROR 000582.
Can anyone shed some light on what I might be doing wrong?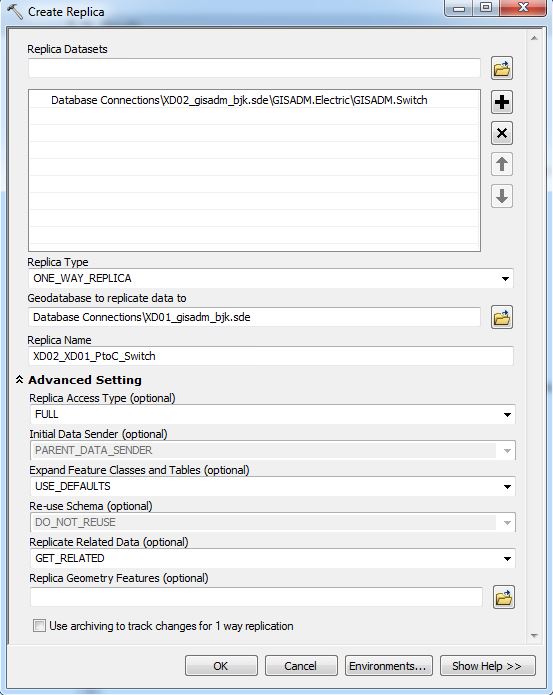 Thanks,

Brandon
1 Solution
Mark as New

Bookmark

Subscribe

Mute
3 Replies
Mark as New

Bookmark

Subscribe

Mute

Occasional Contributor III
Mark as New

Bookmark

Subscribe

Mute
Hi Asrujit,
Thank you for the help and links. I haven't used a geodata service before so I will need to some more research. Our next step after synchronizing the data from XD02 (production) to XD01 (test) is to move schema changes from XD01 (test) to XD02 (production). Would the same geodata service be used in both replicas or does that depend on the type of replica (one-way, two-way, etc.)? Any more information you can give me would be useful.
Thanks,

Brandon
Mark as New

Bookmark

Subscribe

Mute