by
TimothyHales

Esri Notable Contributor
Mark as New

Bookmark

Subscribe

Mute
I am using the Copy Rows to Table tool in a python script to import a CSV table to a GDB. The table is more of a matrix, and therefore has text labels in certain cells. In 10.3 I am getting the text correctly; however, my colleague using 10.3.1 is getting null values for the text. Below are the results, and I have attached the CSV file.
10.3 Output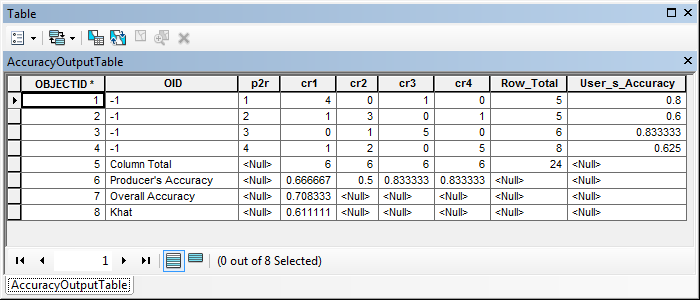 10.3.1 Output

1 Solution

Esri Contributor
Mark as New

Bookmark

Subscribe

Mute
The behavior being seen here is most likely related to the way the software interprets CSV and other text files. Typically when a CSV, or other text file, is added to a map, and the schema of the file cannot be reliably determined, a schema.ini file is created in the same file directory to dictate how the file should be shown. If this is the case, the software will attempt to create it for you and specify what it sees as the best fir - reading off of the first few rows to guess what type each field should be.
The scema.ini file can overridden to distinctly specify how delimited text files are displayed within ArcGIS. An example of when you would want to use, or modify, the schema.ini file to override the default behavior is when ArcGIS is misinterpreting a field type. The following example shows how to do this for a field called PLOTS which should be displayed as type Text but is being interpreted as type Double in a CSV file called Trees.
[Trees.CSV]
Col14=PLOTS Text
More information on this topic can be found here: Adding an ASCII or text file table - Overriding how text files are formatted: http://desktop.arcgis.com/en/desktop/latest/manage-data/tables/adding-an-ascii-or-text-file-table.ht...
The best recommendation in this case would be to see how each case is using the schema.ini file. Simply going off of the two images it would be best to go ahead and create or modify your own schema.ini file because the fields contain both text and numeric values. It would be easy for the software to interpret these fields as number thus not allowing the string information to be shown. Editing the schme.ini file so that these fields are set to String should allow you to continue working as needed.
10 Replies