How to create a video post
Videos are hosted within a post content type with videos inserted in the post.
Videos must be MP4, YouTube or Vimeo, or another allowable URL source to be uploaded or embedded. The user must have permissions to upload a video within the group or space. Video size is unlimited. However, timeouts, loading issues, and lag may occur with large videos over 1GB depending on a user's internet, network, or browser.
Videos are a great way to share information, entertain, or to provide a simple how-to guide.
Remember to use videos from a reputable source that falls within the Community Guiding Principles.
Please note the following about using videos:
Don't use video that does not come from a reputable source.
Do not use video to create a specific how-to instruction for using the community. If creating a community-specific how-to, please contact the Esri Community team at EsriCommunity@esri.com to discuss your how-to needs and how we can help.
Create A Video Post
In your place or group, go to your Video board.
From your Video board, select Create A Post.
Enter the title of the video in the Subject Line.
Select the camera icon to upload a video, select a video from your gallery content, or insert a video from the web.
Select how you want the video size and alignment to display within the post if applicable.
Choose your Labels and enter applicable Tags.
If you do not want community members to add additional tags to your video, select the checkbox for Do not allow anyone to tag this article.
If you do not want community members to give a Kudos to your video, select the checkbox for Do not allow anyone to give kudos to this article.
If you are ready to publish the video to the community, Click Post.
From the published video post, click the Options menu. In the Options menu, you can make additional choices.
Select Edit Article to edit your video post.
Select Delete Article to delete the video post.
How to delete your video
Delete the video from your gallery
Go to your video gallery, and check the white checkbox on top of the video you want to delete.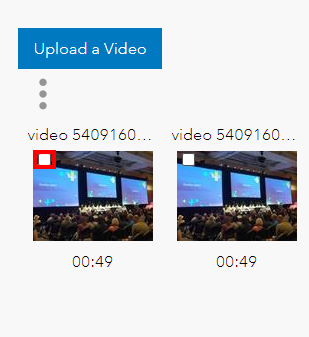 Click the Options menu (stacked three dots) below the Upload a Video button. Select Delete All Checked Videos.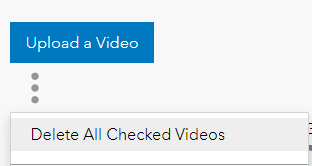 You can also open the video from your video gallery page to play it or see the stats for the video before you delete it. Click the video from your gallery to open the video.
To delete the video after you have opened it from the gallery, click the Options menu (stacked three dots) and select Delete Video.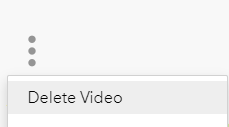 If your video is in a post:
Go to the post where you embedded your video and remove the video embed. Update any references to the video in your post.
For example, if you stated in your post "See my video", edit or remove your reference, or rewrite your scenario to help explain your question or post topic. By doing this, you can help other Esri Community members follow the topic or problem you are trying to solve.