New Contributor II
Mark as New

Bookmark

Subscribe

Mute
UPDATE: I was able to find a work-around. I've put it at the bottom of this post for anyone who experiences this same issue.
Hello everyone!
I'm attempting to load a dataset (D1) into another dataset (D2) and need all the field types to match. I am attempting to switch several of the fields in D1 from "Long Integer" to "Short Integer" to match D2's "Short" fields. However, when I go to "Add Field" in D1 and select "Short Integer", the resulting field defaults to "Long Integer". I have no idea why this is happening: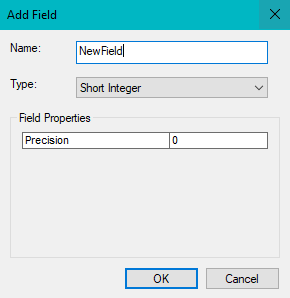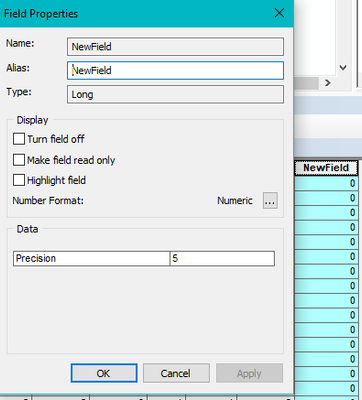 This change in types is happening directly after creating the field, and I haven't even begun loading new data into it with the Field Calculator. Does anyone know why this is happening? It's frustrating because I performed about 10 of these conversions before noticing this issue. Any advice would be greatly appreciated!
SOLUTION:
When creating the field, if the "Precision" value is 5 or more, the field will default to "Long". For me, the default precision value when selecting "Short" was 0, but I had to change it to 4 to get the "Short" type to stay. Hope this helps someone!
3 Replies

by
ABishop

MVP Regular Contributor
Mark as New

Bookmark

Subscribe

Mute
What version of ArcMap?
Amanda Bishop, GISP

New Contributor II
Mark as New

Bookmark

Subscribe

Mute
Hi Amanda,
I'm using 10.6.1. I was able to find a solution which I've posted above. 🙂

by
DanPatterson

MVP Esteemed Contributor
Mark as New

Bookmark

Subscribe

Mute