New Contributor
Mark as New

Bookmark

Subscribe

Mute
Hello: I am trying to plot four categories of health care providers, using X/Y coordinates for address. Several provider addresses have the same X/Y coordinates, and are therefore overlapping. However, for some reason, the "ASC" category (shown in yellow in the screenshot below) are not displaying at all. When I remove the other three categories from the layer, the "ASC" category is displayed.
Would appreciate any suggestions for formatting, etc. I have tried changing the shape for this category and slightly increasing the offset for the "ASC" category, but that conflicts with the business requirements for this project.
Thank you!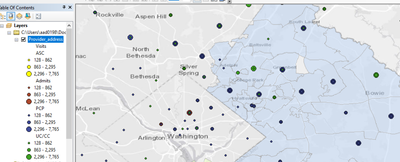 1 Solution

by
RhettZufelt

MVP Frequent Contributor
Mark as New

Bookmark

Subscribe

Mute
By default, features are drawn in the order they are returned from the database, not they way they are in the symbology. So, points in the bottom of the attribute table will draw over the points in the top.
You will still have the overlaps, but you might be able to use Symbol layer drawing to change the order they are drawing.
I haven't used it, but see this post, the first comment with the video and link. Might accomplish what you are after.
Could also copy the layer 4 times, put a definition query on each layer to only show one of the classes, then symbolize them and group to provider_address group layer. Different layers do draw in the order of the TOC.
Depending on you final goal, you might be able to use clustering.
R_
5 Replies