New Contributor II
Mark as New

Bookmark

Subscribe

Mute
Ever since I have installed ArcGIS Desktop 10.7.1 (Advanced edition) on my desktop computer running Windows 10 Pro 64-bit, the on-the-fly transformation in ArcMap does not seem to work anymore. I can set the coordinate system in the data frame properties, but the usual window to set the transformation parameters is missing. When I load data that have a different projection than the data frame, there is no warning or pop-up window to set the proper transformation. The default transformation is incorrect for my area and results in a great shift. It is possible to re-project data in ArcToolbox, here all the available transformations do show up. But since I regularly work with data that have different projections (especially the legacy MGI_Austria_GK_East and ETRS_1989_UTM_Zone_33N), I would prefer the on-the-fly solution instead of having to reproject half of my data. In previous versions on the same computer, I did not have this problem. Has anybody encountered the same problem and knows how to solve it? Perhaps re-installing ArcGIS would solve it, but that would probably involve a new license?
2 Replies

Occasional Contributor
Mark as New

Bookmark

Subscribe

Mute
If I understand right, are you saying that the Transformation button is missing?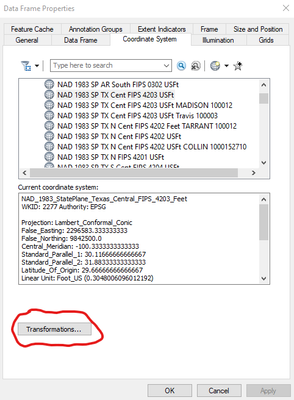 New Contributor II
Mark as New

Bookmark

Subscribe

Mute
Yes, indeed.