New Contributor III
Mark as New

Bookmark

Subscribe

Mute
I have two layers in same MXD, Both are reading from the same data source but each of them had different symbol classes based on same field.
Now I want to append both layers symbol classes into one layer , so for example if layer1 has 3 classes and layer2 has 5 classes, I want to have only one layer with 8 classes.
I tried import symbols tool but it will do override symbol classes not append.
If any one had a solution either in ArcMap or ArcGIS Pro (I already imported the MXD to ArcGIS pro project) please share.
Thanks..
1 Solution

New Contributor III
Mark as New

Bookmark

Subscribe

Mute
I was able to test the ArcPy method in a sample map and it worked successfully but some time it was just copying classes without symbol and some time it was working as expected (I had add some code to update symbol colors in this case).

Here is the code for anyone who may face the same case: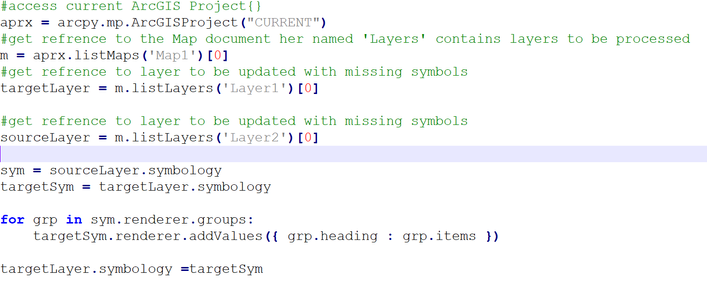 However, when tried on my MXD after importing to ArcGIS Pro project it didn't work, I did many trials to understand the issue, one of the trials was to create new layer from same data source apply symbology using same fields, and keep default symbol classes (auto defined) then delete part of the symbol group and then redo the same for another new layer while keeping the other part of the symbol group and then try the script it works successfully.
The only difference I can see is that in the new layer I can go to layer symbology press add missing value and then choose the add new value option, it work in the new layers while when I try the same steps on original layer I got the error message "Requested operation could not be completed" with no further details I believe if I can fix this issue then the script will work.
9 Replies