New Contributor
Mark as New

Bookmark

Subscribe

Mute
Hello,
I am new to ArcMap and am having trouble determining how to find the distance between two points. So far my internet search has not been helpful as most are just trying to get points nearest to a specific point.
I have points from two different surveys that were done on a landslide. The survey was done on two different days, but were measured using the same 'datum' points that were placed throughout the landslide (locations are marked with a piece of rebar that the survey is done at each time). So I have two different sets of points with the same object ID but different latitudes and longitudes. I want to find the distance between the points in meters based off of their object ID so I can see how far the point has moved since the last survey. I currently have both of them added in as separate layers based on the day the survey took place, but I've combined them into one table as well.
The points were added in using the "Add xy data" function and adding in a CSV (comma delineated) file for both of the surveys which I then exported to make separate features on my base map (which I added through ArcMap).
I have used tools such a Generate Near Table, Near Tool, Point Distance, spatial join and xy to line with no luck (although I could be using them incorrectly). Is there anything I haven't tried? All of the point locations are in the correct location on the landslide on ArcMap.
Any help at all is appreciated! Thank you so much for your time! If anything I mentioned was confusing please let know and I will do my best to clarify.
3 Replies

by
DanPatterson

MVP Esteemed Contributor
Mark as New

Bookmark

Subscribe

Mute
If the inputs are in projected coordinates, the generate Near Table should work.
Provide details on how you used it would be useful

... sort of retired...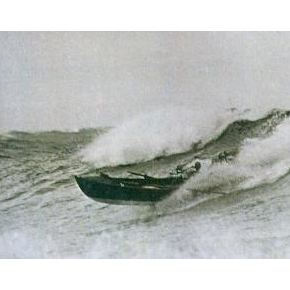 by
DavidHoy

Esri Contributor
Mark as New

Bookmark

Subscribe

Mute
The simplest solution may be to just use the "Measure" tool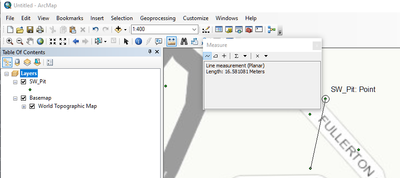 This will snap to existing features - and you can set the units as you desire.
Another option you may be able to use is the Point Distance tool https://desktop.arcgis.com/en/arcmap/latest/tools/analysis-toolbox/point-distance.htm
Of course, these both only provide the 2D distance.

Frequent Contributor III
Mark as New

Bookmark

Subscribe

Mute
I would combine the points into a single table. Then use the XY to Line tool from the first point to the second point.
As an added benefit you now have a line showing the direction of movement between 2 points, and you could symbolize the lines with an Arrow on the end to show the direction. and in the future if you get a point 3 or 4 or more you can add them. The lines would then have the distance in them in the shape length.
This is an older technique that I had used years ago. If your XY coordinates are in meters your good. Otherwise create a second xy double and calculate them in meters.
Combine the tables and export them to Excel.
Then using the hypotenuse formula calculate the distance.
Or you could