Mark as New

Bookmark

Subscribe

Mute
I have recently migrated JTX job types over to Workflow Manager and I am getting the following error on the Prepare (Procedural Step) of multiple workflows. The first time I try to check the step I get the first error message and all remaining times I get the second. Any ideas? I have the job assigned to the current user who is an admin and a member of every group.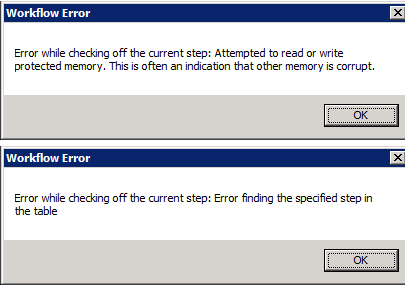 3 Replies
Mark as New

Bookmark

Subscribe

Mute
Update!
I removed the step in question and re-added it to the workflow and the error messages went away. Now I am concerned I will have to do this for 30+ workflows with 10+ steps each, help!

by
BrianDemers

Esri Contributor
Mark as New

Bookmark

Subscribe

Mute
Hi Heather,
Can you provide any specifics about which version of JTX you were using, and the version of Workflow Manager to which you upgraded? Also, do you know how the upgrade was performed? (As in, did you upgrade your Workflow Manager repository in place with the post-install utility, or did you migrate your repository somewhere and then do the upgrade, or...?)
I'm not familiar this particular error, but it almost sounds like there may be an issue with the step IDs or step type IDs. If you're familiar with the JTX_JOB_TYPE_STEPS or JTX_STEP_TYPES tables in the Workflow Manager database, it may be worth a quick look through them to see if there are any obvious problems. (e.g., step type IDs referenced in the first table that don't exist in the second, etc.)
Brian D.
Mark as New

Bookmark

Subscribe

Mute
Thanks for the response Brian! I am trying to bring my entire configuration over again from JTX 9.3 this time using the post-install tool instead of exporting and importing again. I'm hoping this will sort things out.