New Contributor
Mark as New

Bookmark

Subscribe

Mute
I am using Workflow Manager 10.3.1
I have create several workflows using Job Type with Steps within the workflow.
We have noticed that when the number of new jobs created within a Job Type reaches just over a 1000, after selecting the AOI button, and pressing OK, the workflow just hangs, it will not fire onto the next step.

However if you clone the Job Type, a new Job Type ID number is generated and the workflow is fine again. This has happened twice now, and it may be a coincidence but each time the workflow becomes unresponsive when it hits a just over 1000 new jobs.

If everything works again after cloning, then logically this means the MXD that supports the AOI is OK, there must also be sufficient memory or the newly cloned Job Type would not work. The only conclusion is that Workflow Manager must have a limit on the number of new jobs that can be created within a given Job Type, although I can find no documentation that confirms this.
Does anyone know if this is the case or perhaps I am barking up the wrong tree?
3 Replies

by
JFarmer

Esri Contributor
Mark as New

Bookmark

Subscribe

Mute
Hi @mltburger
We don't have a limit to the number of jobs a user can create for a particular job type. You can actually create multiple jobs at the same time in the Workflow Manager Classic application, including more than 1000 if desired.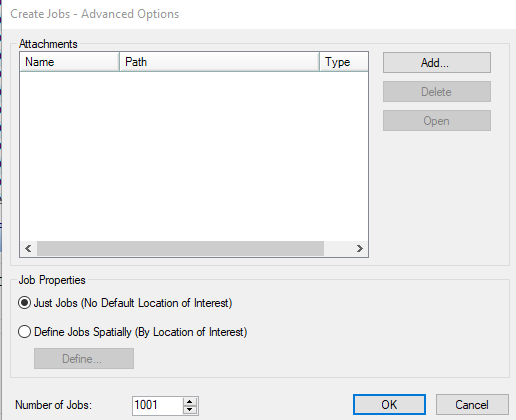 Tech Support may be able to assist you in narrowing this down a bit more. 10.3.1 is no longer supported but they can test different workflows in a supported version and possibly help that way.
Jonathan

New Contributor
Mark as New

Bookmark

Subscribe

Mute
Thanks for the reply, I think it was just coincidence that the number of jobs had reached a 1000.
You are correct that you should be able to create 1000s of job per flowline. The fact the first step works means the flowline is not issue.
I believe the problem is on the select AOI step. Whilst cloning the flowline got us going again, it would be good if anyone can give me any tips as to why the select AOI step stopped responding. I should add that as the cloned flowline links to the same AOI MXD, I am assuming the issue is not the master MXD as the cloned flowline would not work if that is the case.

by
JFarmer

Esri Contributor
Mark as New

Bookmark

Subscribe

Mute
It will be hard to narrow down why the workflow hangs at the Select AOI step, but only sometimes. I'd probably start with looking at the Workflow Manager logs (may need to set them to level 5) when it hangs and compare that to when it works and look for differences.
Not sure if you're using the desktop client for this or not? If so, the only other place you could look would be the logs for your DBMS. If you are using Workflow Manager for Server to run this workflow, there could be something on that side as well.
But without narrowing it down a bit, it's hard to say. I still think Support may be a good bet as they can help with that process. If you want an easy test, maybe create a new workflow with a simple start and select AOI step and see if you can reproduce the issue there.