Occasional Contributor II
Mark as New

Bookmark

Subscribe

Mute
I think I like the "about" widget stuff. I was wondering however if there is a way to reposition the placement/position of the widget within the map layout. Currently, it pops up at the left hand side of the map by default. Is there a work-around to set it to popup elsewhere, perhaps at the right hand side or just about any other place one may chose?
3 Replies

Occasional Contributor III
Mark as New

Bookmark

Subscribe

Mute
You can add it to the list of widgets in the main view instead of the header at the top right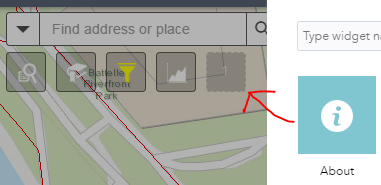 Solomon Pulapkura
Occasional Contributor II
Mark as New

Bookmark

Subscribe

Mute
Thanks Solomon,
Actually, I am okay with having the "widget icon" anywhere within the map area. However, I am interested in where it opens. I will like to configure it to open at a specific position on the map. Default setting is that it opens by the left side corner. Can I make it open by default at the upper side or right side or indeed any chosen place on the map? That's actually my headache now. I don't like it open at the left hand side and neither do I want to be dragging it manually each time.
Thanks

Occasional Contributor III
Mark as New

Bookmark

Subscribe

Mute